The Wisconsin Northern Railroad
Printed from: Railroad Line Forums
Topic URL: http://www.railroad-line.com/forum/topic.asp?TOPIC_ID=34266
Printed on: 05/23/2018
Topic:

---
Topic author: Jordan114 Subject: The Wisconsin Northern Railroad
Posted on: 09/19/2011 9:27:14 PM
Message:

Hello all,

This is the beginning of what will be my journey on modeling the Wisconsin Northern Railroad.

I will start with a brief history of this shortline. The WN was founded in late 2004 when Progressive Rail acquired 61 miles of track from the Union Pacific and Canadian National. The line used to be part of the Spooner and Itasca Subs of the Chicago & Northwestern. This segment ran 147 miles from the yard in Altoona to the CNW Itasca yard in Superior, Wisconsin. The trackage that the WN acquired starts in Norma (The northern part of the city of Chippewa Falls), Wisconsin with an interchange with the UP and heads north through the towns of Bloomer, New Auburn, Chetek and Cameron, Wisconsin. At Cameron the line splits. One heads north to Rice Lake, Wi and the other west over former Soo Line and WC (CN) trackage to Barron, Wi.

The WN serves many industries along its route and carries many products such as resins, scrap materials, lumber, logs, fertilizer, steel, feed grade grains, and tallow. And now with the addition of Frac (Fracture) Sand for the oil industry, freight on the WN is looking even better. This sand alone will out produce all other commodities carried on the WN combined!! Two new sand loading facilities are being built in New Auburn and Norma, Wisconsin. In New Auburn Thrall Gondolas were being loaded with sand using a front end loader, now a huge facility is being built to load dried sand into covered hoppers. The new facility in Norma dwarfs the new loader in New Aurburn!! Im talking massive!! I will get pictures soon, because words cant describe this facility. It has its own yard for covered hopper storage. To handle the new sand traffic in Norma the WN purchased 2 used EMD SW1500's to complement the WN current roster of 2 GP15-1s and a SW1500.

The Union Pacific is the only railroad the WN interchanges with. Norma is the only connection to the "outside" world for the WN. Norma will see many different locomotives, UP SD70s and GPs along with the WN's locos. The SD70s are usually for the sand trains received from the WN and the GPs for the "local" that brings and takes freight from the WN. Sometimes you can even see ex-Southern Pacific units with the UP power. Pretty impressive.

I still haven't decided what part of the WN I want to model. But I am planning a railfan trip soon to go over the whole line and take pictures of the WN in action along with all the industries it serves. From there I will pick what I want to model.

Well there you have it. A summary of what my future journey shall be. I'm happy with this idea of modeling my "hometown" railroad. I'll keep yall posted as I progress!

Jordan

Replies:

---
Reply author: Tyson Rayles
Replied on: 09/19/2011 10:04:00 PM
Message:
Sounds like fun, looking forward to progress reports!
---
Reply author: MarkF
Replied on: 09/19/2011 11:29:46 PM
Message:
Hey Jordan! I'll be looking forward to watching this project develope!
---
Reply author: Jordan114
Replied on: 09/20/2011 11:27:09 PM
Message:
Thanks for the excitement guys!! That makes me even more enthused to get started!

So here is somewhat of an update. For the Wisconsin Northern GP15-1s I am thinking of using Athearn units. They look like very nice models. Im going to get them undecorated since I have to put the WN paint scheme on myself. Whats kinda cool is that the real GP15-1s were ex-Frisco units and the undecorated model is the Frisco version. To me that will add even more realism to my railroad.

So here is a photo of the undec model.



And here is what my locos will look like once painted.



I just wanted to ask if anyone has comments about the athearn units. If there are any problems with them or not.

Well thats all for now!

Jordan
---
Reply author: Jordan114
Replied on: 09/24/2011 6:15:06 PM
Message:
No progress yet to report. But on the Wisconsin Northern that is a different story! It was officially released today in the local news paper that a sand plant is going up North of Bloomer, Wisconsin. They say the company will be employing 75 people and sand is to be washed at the plant. This will be sand plant #3 for the Wisconsin Northern in less than a year! Construction has not started yet but the area in which the plant will be has been staked.

More and more customers are sprouting along the WN route. What a successful little short line!


Jordan
---
Reply author: Tyson Rayles
Replied on: 09/24/2011 8:14:58 PM
Message:
You are going to need a bigger layout!
---
Reply author: Jordan114
Replied on: 09/24/2011 9:06:30 PM
Message:
LOL I know! I THOUGHT I was modeling a short line.


Jordan
---
Reply author: BOK
Replied on: 09/24/2011 9:08:40 PM
Message:
Jordan:

I was the man who started up the WN and managed it for Progressive rail before moving on to a better railroad. In fact that might be me in the cab of the locomotive in the picture.

Somewhere I have a map I drew of all the trackage and customers on the line. If I can find it I'll try to figure out how to post it.

Feel free to ask questions about the line.

Barry
---
Reply author: Jordan114
Replied on: 09/24/2011 9:28:45 PM
Message:
Wow Barry, I must admit I was not expecting a reply to my thread like this!!!
A map of the trackage and costumers would be MUCH appreciated! I'm honored to have the WN founder a part of my thread. I have many questions Barry... now where to start!


Jordan
---
Reply author: MarkF
Replied on: 09/25/2011 12:21:18 AM
Message:
Thats a sharp looking paint scheme Jordan! I can't wait to see you detail it up and paint it. And ideas for a track plan yet?
---
Reply author: Jordan114
Replied on: 09/25/2011 2:00:30 PM
Message:
Mark,

I do not have a track plan yet. Someday I would like to model the entire route but my space doesnt justify that. And I WANT to have some running room between towns for that out in the country feel. So I will pick 2 or 3 towns that will keep me busy during an op session. I really want to model the sand operations or at least some of it, but I am having a hard time finding the covered hoppers needed for this service.

This is what they use for hauling the sand. If anyone has suggestions or ways that I can get a hold of hoppers like this in model form that would be great!



Oh and last night I ordered my two GP15s so they should be here in the next couple days!! Pictures when I get them!

Jordan
---
Reply author: Boss Boomer
Replied on: 09/25/2011 7:19:18 PM
Message:
That's a nice paint scheme on those units! Wish you well duplicating them.

And for my 2 cents worth, I'd swear Athearn was the best lo-priced units out there. Hard to go wrong with Athearn even if they were sold a few years back to an R/C company! ;) If you have problems with Athearn or just don't like them in service, chances are good that you can sell them quickly on E-bay and recover a fair amount of their value. They are common and give good service for a very long time. Just remember "you get what you pay for." You buy Athearn, you get Athearn quality which is NOT the same as fine-tuned brass equipment! You want high-quality brass performance, buy brass right at the git-go.

Pretty nice to have a real railroad man available to answer questions about your chosen prototype! What a lucky break for you, Jordan! I hope Barry stays on our board and enjoys himself! He'd be a real asset for those of us with questions about "real" operations and such!
---
Reply author: BOK
Replied on: 09/25/2011 10:05:18 PM
Message:
Jordan:

Here you go. Try this for a map. I'll be happy to clarify the operation.

The railroad was not (may still not be)operated in a conventional manner ie; locomotives on the front pulling cars. When we set it up, we needed to service customers heading north and pull cars the next day heading back south. In order to accomplish this we put an engine on each end of the train with cars in the middle as there were no functional runaround tracks in the 60 miles from Chippewa Falls to the backward, junction at Cameron. The only exception was the former siding at New Auburn which was a mile long, with a 5MPH slow order on it which took 40 minutes to runaround cars.
Since most of the customers were on facing point switches going north, the two man crew split at each station with one becoming the conductor and the other engineer depnding on which locomotive was used for the switching move. At Cameron the train went around the east wye (the west wye was removed)onto the old Soo/WC/CN branch where we had head room for about 20-25 cars and then reversed direction using the rear unit to operate west to Barron and the largest industry, Jennie O Turkey processor.

Well, this is probably a lot to understand at first, so I'll let you have some time to think it over and generate other questions you might have.
---
Reply author: BOK
Replied on: 09/25/2011 10:27:47 PM
Message:
Well, I inserted the map but i can't seem to find where it ended up.

As information: I have and still am railroading for the last 40 years working for 15 different railroads and doing everything from cleaning the toilets to being a General Manager.
Generally I have been working either as a conductor/ engineer or Safety/Operating Rules
Instructor/Manager. In my time on the rails, I have piloted several steam excursion trips including the 261, have hosted POTUS (president of the United States)trains, my family and i have owned private cabooses in the past and I have hundreds of stories of my experiences from the past forty years of working for big and small lines.

I left Progressive Rail because of differences in management styles and policies and am currently a Regional Safety/Operating manager for a large company who owns short line railroads, locomotive/car shops and transload operations. I have also been a model railroader as time has allowed, first N scale and now HO. In both scales the layouts have always been simple and fairly small.

I guess that's enough for awhile.

Barry
---
Reply author: Ollie
Replied on: 09/26/2011 03:29:03 AM
Message:
I looked the Wisconsin Northern up and with its three engines, this might be a very interesting layout idea. I also found a site withe few images on a couple of GP15.s painted in WN paint running with one unit in each end of a few covered hoppers. http://www.mnse.org/Members.html

On units it is kind of nice to know that Athearn makes both the GP15.s and the sole SW 1500. This would make things a bit easier for some possible upgrade and service for the units. Keep posting!

---
Reply author: Jordan114
Replied on: 09/26/2011 4:43:56 PM
Message:
Barry- Thanks for that info!! From videos I have seen on Youtube and in real life the WN still does the push/pull method most of the time. On the return trip back home to Norma is when they mostly double head. I kinda figured they never used that siding in New Auburn since the sand hoppers have been in there. But 5mph, wow I knew the track was bad but not that bad.


So I guess my main question I've been needing an answer to is this. What are/were all the industries the WN serves and what are the number of cars each industry takes during the 5 day work week? I know most of the industries that are served but I dont know the car count for each one.

And wow Barry you have had quite a life in the railroad industry! Im sure Im not going to be the only one appreciating you on this forum!! Thanks for taking time to answer my questions!

Ollie- For the Frac (Fracture) Sand industry that is poping up along the WN they had to purchase (or lease) 2 more SW1500s! 1 is an ex Union Pacific engine and the other is an ex Southern Pacific. I have heard that these units will not be painted right now. The explanation was that it would cost $15,000 for each unit and they need them switching cars not sitting in the shop for a month. Im sure someday they may be painted. Im hoping if they do it will be in the WN paint scheme and not the Progressive Rail scheme used on the other SW1500 just because I think the WN scheme is really nice looking.

A couple years ago I bought an Athearn Great Northern SW1500 for some reason. (LOL yes I cant remember why) and earlier this year I was going to sell it because it wouldnt fit my 1950s freelanced coal hauler. Knowing that the WN now has 3 of them makes me happy I didnt!! Just have to strip it and paint it in the PGR scheme. And I love this loco. It runs incredibly well and smooth. For this reason if I ever have to buy locos Im looking at Athearn first! Cant wait for my GPs to get here so I can test them out!!

Jordan
---
Reply author: BOK
Replied on: 09/26/2011 7:39:22 PM
Message:
Jordan:

The three towns you might concentrate on would be:
Chippewa Falls, Bloomer and Chetek.

The UP interchange was located at Chippewa Falls, on a long siding, the large Pliant plastics plant, which received plastic resins in covered hoppers where we used to park the locomotives could handle, if i remember right 15 cars on the north track, 11 on the south and three on the stub. The old north wye was where Toys scrap company, trans loaded steel scrap from truck to gon and on the same spur we would transload salt and fertilizer for an Eau Claire company from covered hopper to semi truck.

The fastest (and in the best condition 25 MPH) track was the nine miles from CF to Bloomer...beyond there all the way up to Rice Lake and out to Barron was 10 MPH max if even that. PGR didn't have enough cash to re-hab the whole line when we started it up. This is because they are only leasing the line from the UP and will not purchase it but instead get the counties to purchase it (limiting their liabilities)and then lease the operating rights to the track. With all the frac sand now moving on the railroad I would hope that either UP or PGR puts some ties in the line north of Bloomer to make it safer for the heavier trains now operating on it.

Bloomer would be the next town to model as it has Agri-Tech a fertilizer distributor, granular only in covered hoppers; Waste Recycling (not sure if that's the name of the outfit out of Eau Claire) which loads a couple of tank cars of used paint/solvents in a metal building (much like an HO Rix building) they brought with them from the CN at CF; next is PMI which receives, two covered gons of coiled steel usually in EJE, UP, MP cars to make stamped steel products for appliances and last Bloomer plastics which although smaller than Pliant plastics could take five resin hoppers with two off spot on the lead and other hold cars downtown on a spur.
By putting the south end of the spur down town back in service, you would have a runaround track so the units could be back-to-back on the head end.

The last town I would model would be Chetek
which was home to Chetek COOP a fertilizer dealer, seasonally received potash and urea fertz. like the one down in Bloomer, an outfit who received bauxite powder in totes in fifty foot hi-cube FBOX, boxcars for transloading to truck for a nearby papermill, and shipped out scrap paper in the same cars, their track could only hold one car; and fially one of the big supporters of the line when the UP gave it up, ABC truss who received up to five spine and bulk head flats of lumber to manufacture building trusses. By putting the the old east siding back in service you could have another runaround track and use this as the end of the line. I would concentrate on these towns as they all seemed to be the most active although you could include the "back assward" connection at Cameron to serve Barron and the turkey feed plant which took hoppers of feed and occasional tanks of resturaunt grease (makes you really want to have turkey for Thanksgiving dosen't it)
a few cars of utility poles for treating at Bell Pole and some fertilizer. But I understand the feed plant isn't taking much rail because the UP raised the rates on feed and Rice Lake never had much besides Shadow Plastics a couple of cars every two weeks, some seasonal fertilizer for Cenex and off and on (now off) flats of veneer logs for Buesse Forest Products think, golf clubs, skate and snow boards etc..

Well, there it is...the operation as I remember it five years ago when I started the railroad up. Undoubtly, there have been many changes since then and I would recomend joining the WN Yahoo group for more information.

Enjoy,

Barry
---
Reply author: BOK
Replied on: 09/26/2011 7:46:59 PM
Message:
Jordan:

I forgot to add that you may post the WN map for all to enjoy and feel free to ask more questions.

Barry
---
Reply author: Jordan114
Replied on: 09/26/2011 11:11:14 PM
Message:
Again thank you Barry. Your information has been invaluable.

The towns I considered modeling from the get go was Chippewa Falls to Chetek. The only reason I wanted New Auburn is because of the sand loader that is being built there. And I believe from your description of the industries on the line the ONLY new customers so far are the Sand Plants in both CF and New Auburn. Also a new grain bin storage facility has been built near Cameron. It is not currently served by rail but is right next to the WN tracks and I heard they are talking about it being a costumer in the future. And I agree about the new ties and track. They have already been hauling 100 car sand trains since last fall I believe from New Auburn. Once the new sand plant is built just north of Bloomer that will be even more tonnage on the rails.

Chetek: I appreciate you mentioning what the transloading building "carries". I believe its currently called Badger State Recovery. What was the ratio between Bulkhead Flats and Centerbeam cars into ABC Truss?

Bloomer: I new there was a tank car industry there but had no clue thats what it supplied. And whats funny is that now that you mention it being on the old CN yard in CF I remember seeing it there! The only thing is, is that I thought it was an Engine Shed for the local CN engines.
I remember driving by the yard one day and the building was gone. That explains it!!

Norma: I always wondered what they used the old Cornell Wye for. So the South Wye track, do they use that for car storage? I always see covered hoppers shoved up that spur. Maybe for Pliant?

But anyway now with this info I can figure out what I want to model and what will fit in my space. Sure to be more questions so be ready Barry!!


Barry also gave me some photos to put on here.

First of all the system map of the WN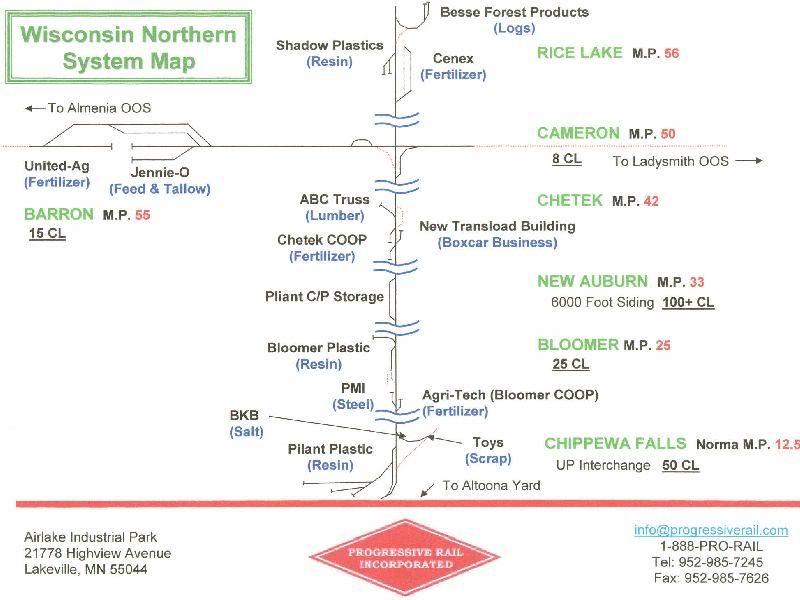 Here are 2 photos of TOYS scrap loading gons with scrap metal.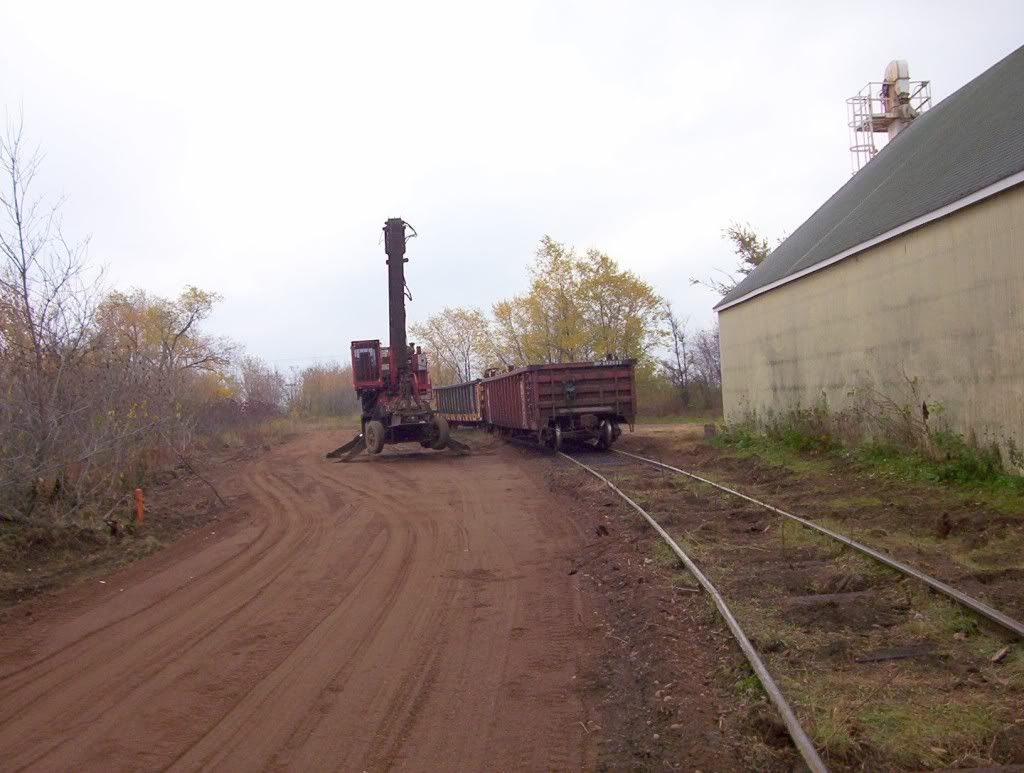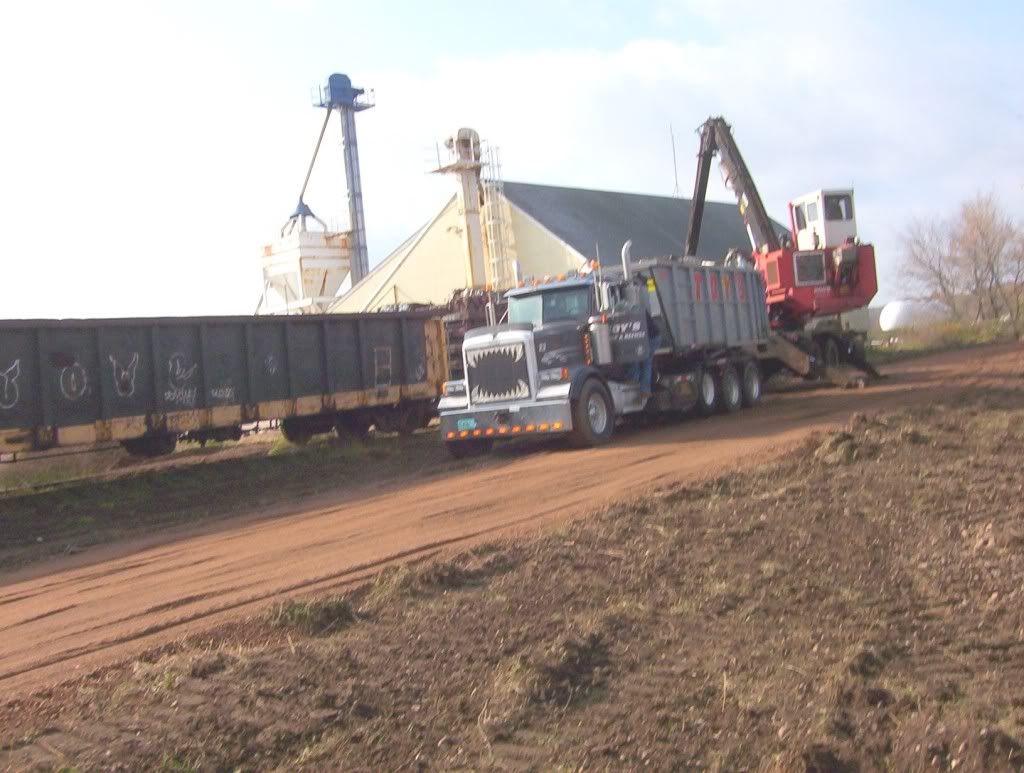 And finally the transloading area on the north wye in Norma. The truck appears to be loading fertilizer from the hopper. Up front is WN 1500 the "City of Barron"



Enjoy!!

Jordan
---
Reply author: Ollie
Replied on: 09/27/2011 07:56:06 AM
Message:
Love that truck, should give some respect while viewed at in the rearview mirrow..
---
Reply author: reklein
Replied on: 09/27/2011 09:02:13 AM
Message:
What is all the sand being hauled,used for? Please. BILL
---
Reply author: SW15002001
Replied on: 09/27/2011 09:21:39 AM
Message:
Bill:

The sand being mined and shipped out by rail is frac sand used in drilling for oil and gas.
Modern drilling procedures have changed and by using high quality frac sand and new drilling equipment capable of drilling horizontally and at angles rather than just vertically, drillers can now reach more pockets of gas and oil than before. It has become a whole new industry in itself.

Barry
---
Reply author: Jordan114
Replied on: 09/27/2011 09:42:05 AM
Message:
Always respect trucks, especially the ones that have teeth on the grill!


The sand that is hauled on the WN is known as Frac or Fracture sand. Its a special sand used in the oil industry. Here is a link that explains everything about Fracking. http://en.wikipedia.org/wiki/Hydraulic_fracturing

And here is a diagram that shows what the sand does.



Hope this helps.

Jordan

---
Reply author: reklein
Replied on: 09/27/2011 10:40:50 AM
Message:
Thanks for the good answer. I kinda thought that was the case,when Bok made his comment. Its sure neat to have such a good source of info. Wow! BILL
---
Reply author: Jordan114
Replied on: 09/27/2011 11:55:36 AM
Message:
Lol I must have been writing you my answer while Barry was writing his. Cause I posted mine and then saw that he just gave an answer. His explanation is much better!!

Jordan

---
Reply author: Jordan114
Replied on: 09/27/2011 12:20:07 PM
Message:
Barry what town is Bell Poll located in?

And yes Jennie-O is down in feed sales. From what I heard that it had 700 car shipments last year while only 120 this year. If I ever model Barron in the future I may use modeler license to bring that car count back up as well as bring that fertilizer dealer just past the turkey store back to life.

So when the WN gained control of the UP/CN trackage didnt the WN go as far west as Almena Wisconsin?

Jordan
---
Reply author: SW15002001
Replied on: 09/27/2011 2:28:42 PM
Message:
jordan:

Bell Pole is located just east of Barron and is served off a short, trailing point spur the WN installed in maybe 2006-2008?

Although the track west of Barron to Almena is still in place (probably paved over at road crossings) I don't think that WN ever went there. I know when Minneapolis-Owen and Ladysmith -Barron/Rice Lake was part of my territory as trainmaster on the WC we only made one trip over there in nine years. I would guess the track would take a lot of work and expense to get it to even 10 MPH operation now, the same situation with the track from Cameron to Ladysmith. WC/CN was more than happy to get rid of their switching responsibility (they still own the track) at Barron and Rice Lake due to really poor track conditions and not enough revenue to fix it up.

The track at Barron truly has a reverse curve in it like shown on the map. This happened when
Jennie O (the turkey plant) expanded their facility north against the main, runaround track and house track. In order to accomodate the expansion, the main was moved to connect with the runaround track, the runaround track connected with the house track and the rest of the house track was removed. As a side note, Barron once had a wye, west of the depot which led to the old,abandoned Ridgeland branch. Back in the 70s when I worked for the Soo Line, Jennie O would occasionally ship frozen turkeys out in mechanical refrigerator cars and I believe there was an LPG distributor who recieved propane in tank cars like the one that used to be in Cameron along the SOO and Chetek along the CNW.

Well, that's probably too much information for now.

Barry
---
Reply author: Jordan114
Replied on: 09/28/2011 11:12:12 PM
Message:
Okay thanks Barry. I think I have that information processed into my mind.


I drove through Barron today for work and took a look at the track arrangement on the north side of Jennie O that you described. I never noticed it before but what you described makes sense. Oh and that fertilizer dealer on the west side of Jennie O still receives rail shipments. I thought that since this track was paved over it was done but it looked like the WM drove right over the tar and broke through to find the rails again!! 3 hoppers were sitting at the dealer today and looked like 10 or so at the turkey store.

Here is another question for you Barry. The branch line that once went to Cornell. Could you tell me about the old branch before it was ripped up for the bike trail? Like what the industries were along the line before operation seized. Im from Cornell and never new much about the railroad there other than the Mule Hide paper mill it once served.

I just got my GPs today!! I will take pictures tomorrow and get them on for everyone to see! I think I am going to run them back and forth on a piece of flex track and listen to them!


Jordan
---
Reply author: BOK
Replied on: 09/29/2011 7:14:47 PM
Message:
Hi Jordan:

Yes the fertilizer dealer at Barron was taking cars when we started up the WN but like the other fertz. facilities it was seasonal (a few cars in the spring a few in the fall) nothing which was strong revenue or could support the line. In my career, I have abandoned many miles of railroad in the midwest and usually the last customers on a line are the fertz. dealers which don't contribute enough to keep things going. Usually nobody opposed an abandonment..all that most towns wanted was to remove the track so the ROW could be made into a snowmobile trail which would spur tourism (bar hopping).

Regarding your question about the CNW Cornell line. It was originally built from Norma (CF) out to Hannibal, WI.. It was abandoned/removed back to Holcombe in 1938, then to Cornell in 1943 and finally pulled up completely in the 1980s I believe. I began my officer career with the CNW in Chicago in 1971 and back then there was a lot of mechanical refrigerator car traffic to Jim Falls. This was for the dairy probably movement of government butter/cheese outbound to Kansas City where it was aged and stored in caves for distribution to schools, colleges, the armed forces etc.. The CNW also delivered coal to the dairy for powerhouse fuel.

Barry
---
Reply author: Ollie
Replied on: 09/30/2011 08:12:57 AM
Message:
That iis cool, I guess the additional SW1500.s will adda bit of extra color to the fleet..:) I am to follow this thread, most interesting with the first hand info and a bit different protoype to model! :) BTW. That truck with the jaws is now a prime kitbashing object, once i find a decent second hand Wiking Peterbilt to start with. The jaws will be a nice photoshop project½
---
Reply author: Jordan114
Replied on: 09/30/2011 9:53:56 PM
Message:
Thanks again Barry! I really appreciate you taking time to answer my questions!!

So today during work I drove through New Auburn and was pleasantly surprised to find out that the WN was working today! 4 locomotives were there today. Both GPs and the ex-UP and ex-SP SW1500. Today it looked like some 3 bay covered hoppers were being washed out and some switching at the new sand loading facility located in New Auburn was taking place. Although I only got a quick glance I was very excited to see the WN units. So a few hours past and I was on my way to a second delivery (I deliver nutritional mineral to farmers to feed there cows) and decided to take another run through New Auburn. Not expecting to see anything, I saw the WN beautiful Geeps sitting just out of town (out of the way) and the crew was using the 2 SW1500s to switch the sand hoppers into there storage tracks. Wanting pictures of the Geeps I unfortunately had to keep going since I was working. I hurried up and hauled butt back to New Auburn to see if any action was taking place. It was going on 6 o'clock so I was worried the crew had packed up and headed home. BUT when I rounded the corner into town there the Geeps were sitting in the same spot! I was so excited! I pulled over and took some photos and had my brother (he works with me) take a couple pics of me next to them. Very handsome engines if you ask me! The crew was still in the SW1500s in the downtown area about a mile away. None the less I finally have my own pictures of the WN!

Here are WN 1500 and 1501 just outside of New Auburn Wisconsin.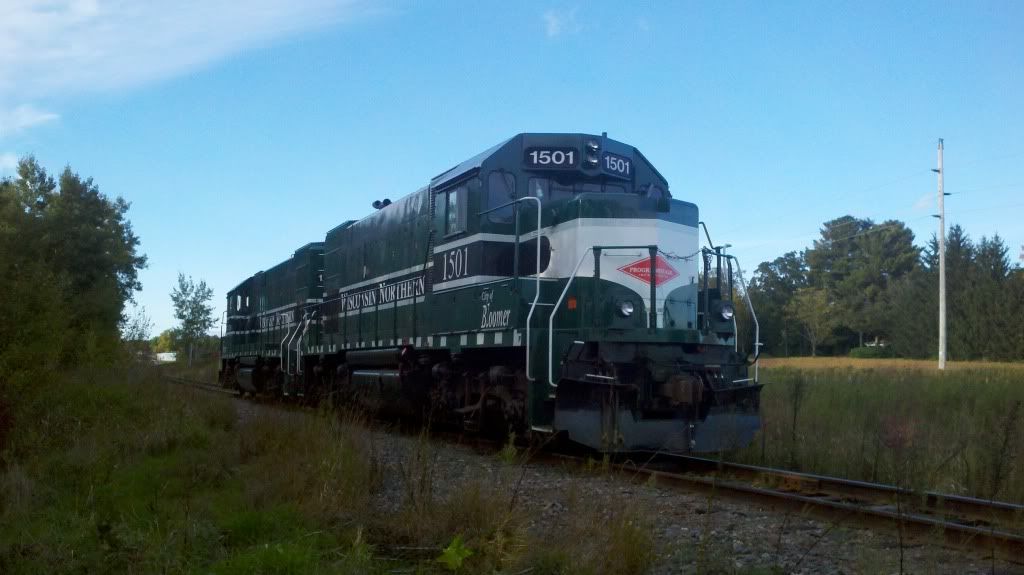 1501 "The City of Bloomer"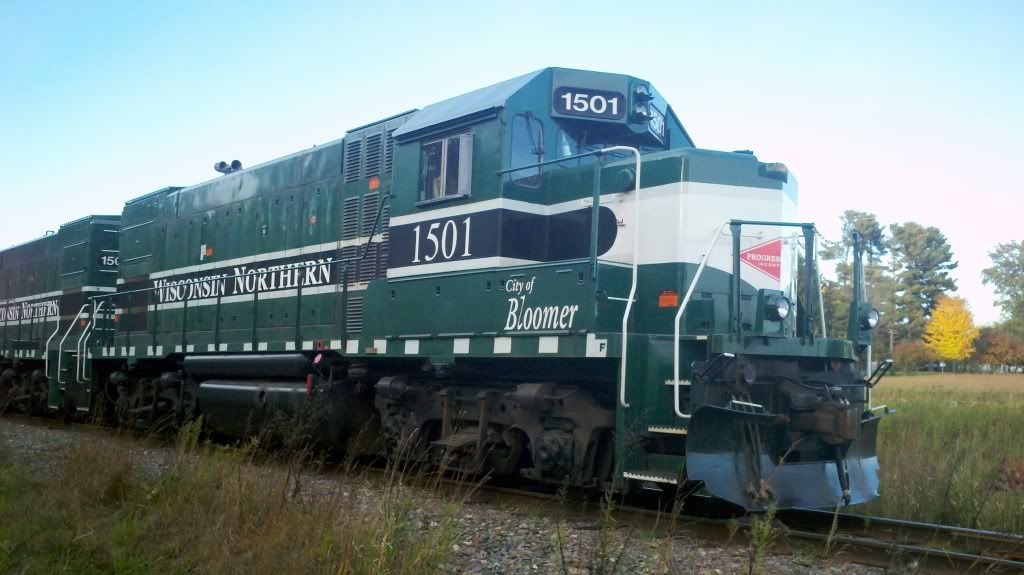 1500 "The City of Barron"



The pics of me next to them.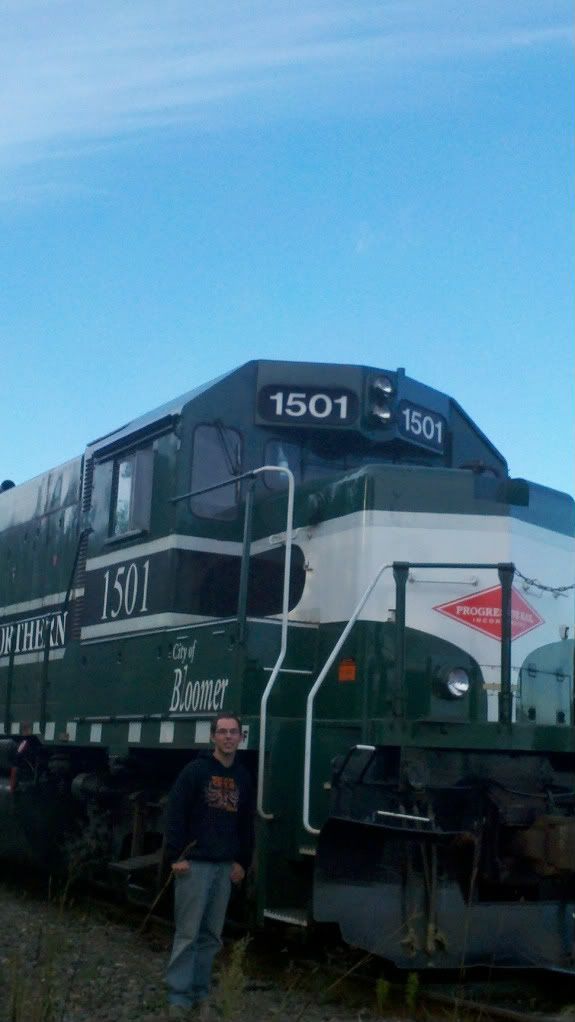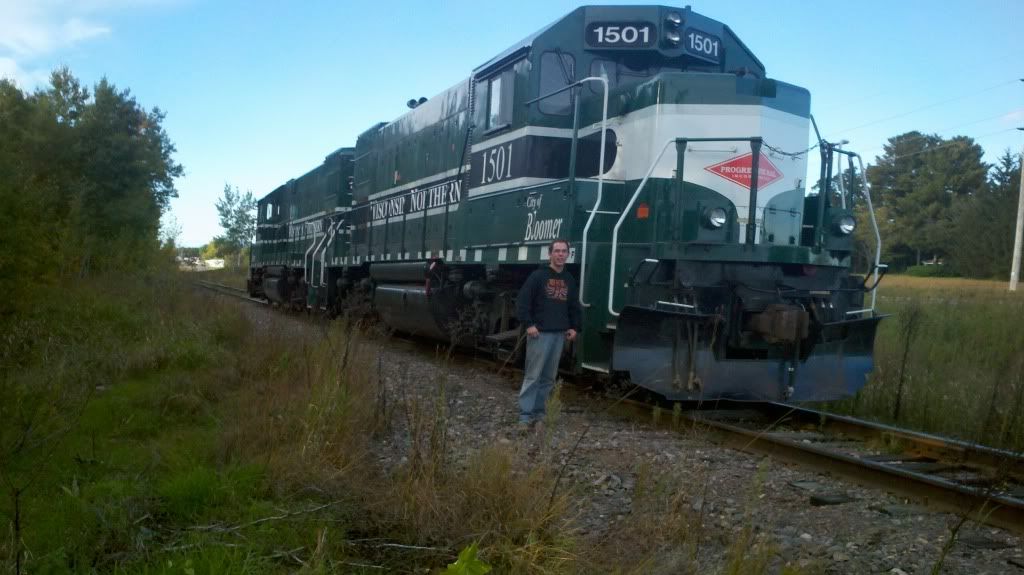 And I got my Athearn GP15-1s in the mail a couple days ago and finally got some pics.





This is my Great Northern SW1500. This is the model I am planning on stripping down and making it the Progressive Rail SW1500 that operates on the WN.


Im also drawing mini track plans. Just getting ideas of what will fit in my space and what I want to model. Thats about it though right now. Im planning a rail fanning trip of my own to go about the whole line and take pictures of each industry and take note of anything else that is of interest. Should be fun!

Jordan
---
Reply author: Jordan114
Replied on: 09/30/2011 9:57:26 PM
Message:
And I realized I forgot to put the photos of my GN SW1500. My apologies.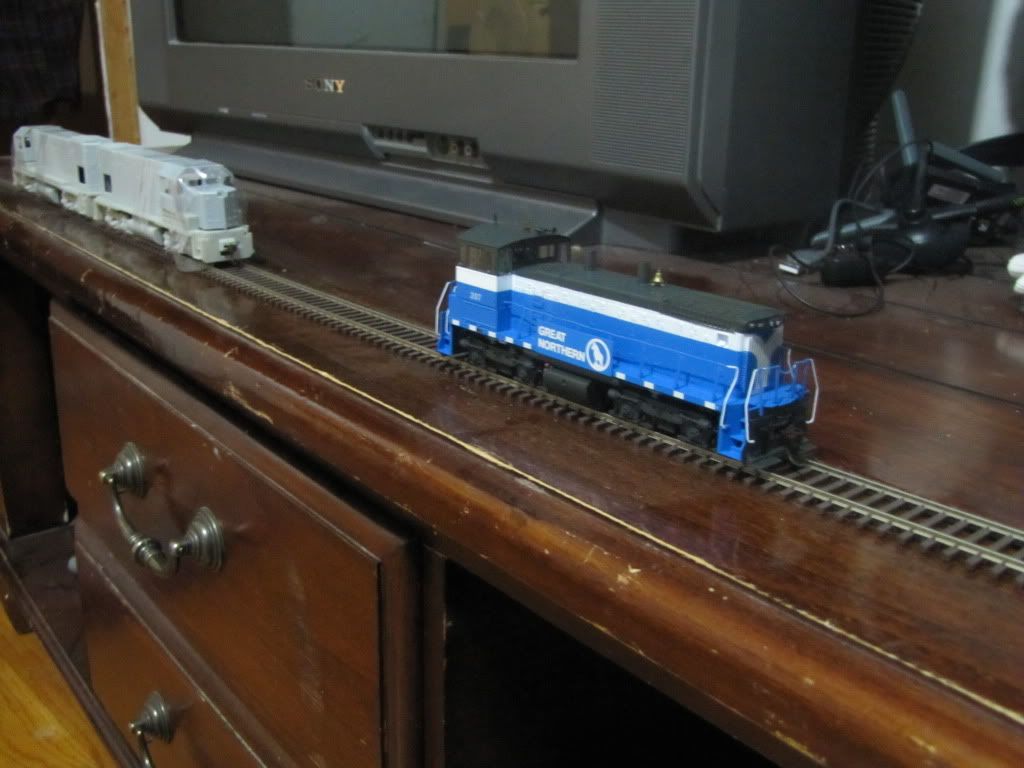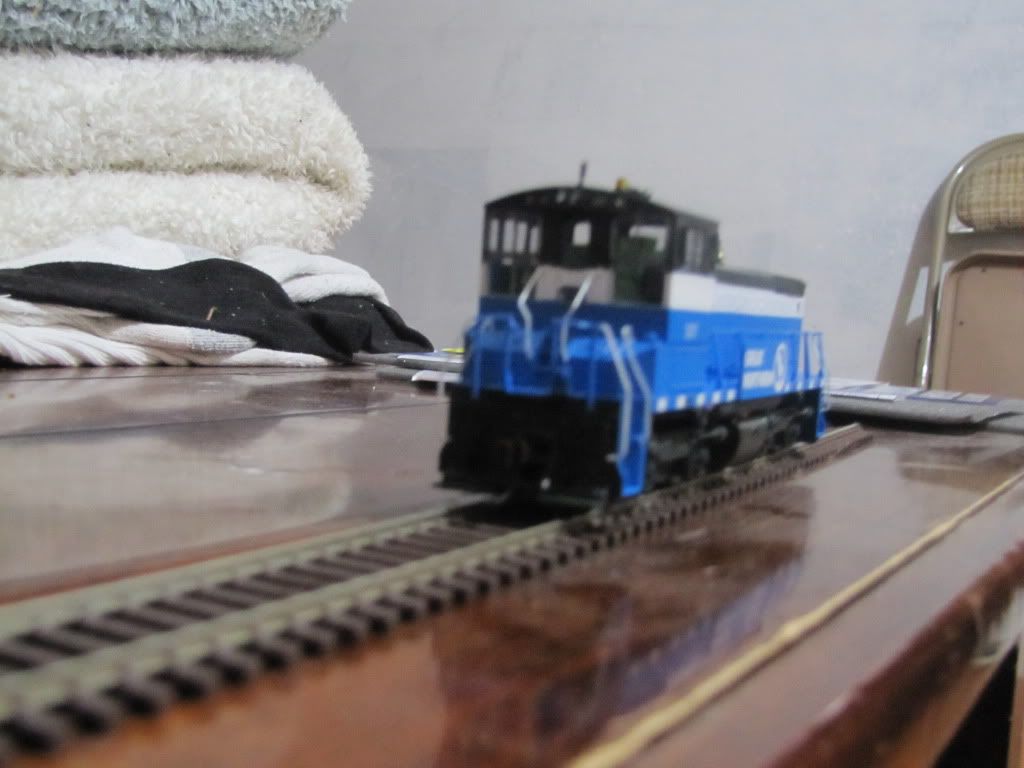 Enjoy
Jordan

---
Reply author: SW15002001
Replied on: 10/01/2011 12:10:22 AM
Message:
Jordan:

Nice locomotives. I have a pair of N scale Atlas, WN, GP-15s. Doubtful I will ever model the line but I have purchased either a single or a pair of units for each of the 15 railroads I worked on and so they join the small collection.


Happy Modeling,

Barry
---
Reply author: Jordan114
Replied on: 10/01/2011 4:20:26 PM
Message:
Thanks Barry! I'm really excited now that I have my Geeps. Just need them painted and a few WN details added to them.

I have a couple more questions Barry. First- When did the dairy go out of business in Bloomer? Second- Regarding your story of the operations on the WN. The amount of cars that you mentioned for each industry, was that how much they would receive in the entire week or every couple days? I know that the WN usually runs from Chippewa to Barron on Mondays and Wednesdays and comes home on Tuesdays and Thursdays. Does my question make sense?

Jordan
---
Reply author: BOK
Replied on: 10/01/2011 10:15:45 PM
Message:
Well, Jordan you keep coming up with some good questions.

The huge dairy at Bloomer was active until somewhere in the 80-90s I think. I can recall there being jumbo, 57' mechanical reefers spotted, there with road names: ART ( the older redish-orange NW-MP), PFE/SPFE/UPFE, and FGMR. As I recall, they shipped cheese, butter and powdered milk from that location like Jim Falls. Speaking of Bloomer there used to be a "downtown" track which went west off the siding by the ready mix outfit and down the side of a street before turning south to service a large feedmill/fertilizer distributor along the river. The CNW hated to operate down that track, especially in the winter when there was ice and snow on the street and much to their dismay that's right where Bloomer plastics started out in an old building next to the lead. This meant that it was a real pain for a crew to service the fertz. plant because they first had to remove the plastics hoppers before they get to it and then had to re-spot them later. It wasn't hard to convince the ferzt. plant downtown to convert to truck when the plastics plant built a new plant north of town and the city wanted the track removed. One less operating problem for CNW crews which were usually short on their run time from Superior anyhow.

As far as number of cars/week at each industry?

Pliant was switched on Mon./Wed>/Fri. and tok about 15-20 cars a week. Toys ordered gons usually at the end of the month when steel prices were higher...maybe o-6 a week. Bloomer Plastics took 5-10 cars a week, PMI steel 4-8 cars, Waste Recylers (sp) about 4-8 tanks aweek (atleast they did on the CN) and ABC Truss about 5-10 flats mostly the "spine flats".
of course Jennie o would get 12 -20 cars of dry feed and a tank or two of grease every month. The rest of the business was seasonal fertz. and a car or two (long flats)a month of poles for Bell. With all the sand now moving though I am sure things are different. The best revenue sources were between CF and Chetk and if I had my way I would have located all the industy at one of those points and removed all the rest of the track since the more track the more it costs to maintain it and operate on it. The smaller and simpler the better, whether on the prototype or a model.

Barry
---
Reply author: Ollie
Replied on: 10/02/2011 06:03:30 AM
Message:
Hmmm, perhaps after rereading this thread is time for me to get some of those GP15.s too... The operational info is great reading and gives a look on something we modelers often miss... Thanks for sharing! :)
---
Reply author: Jordan114
Replied on: 10/03/2011 4:33:26 PM
Message:
Well I'll try and keep the good questions coming!

Do you think it would be out of the question to "freelance" this dairy back to life? Do some dairy's still ship with rail? I think it would be neat having some 57' reefers mixed in with the car flow. But this is just an idea at the moment.

After looking at a topo map of Bloomer it still shows the track going "downtown" like you were saying it use to. Then I clicked on satellite view and you can see that the feed/ferz dealer buildings are still on a curve from when the buildings were built around the track. Pretty neat if you ask me. That line ran right across Hwy 40, I couldnt even imagine the traffic build up on the roads while doing switching on this track.

Another update on the real WN. The first sand train left the new sand plant (It is called Superior Silica) in New Auburn yesterday. From what I heard it was a 35 car train of covered hoppers pulled by the WN Geeps. The ex Southern SW1500 looks to be stationed there and will serve as the plant switcher. Talking about sand in New Auburn, ANOTHER sand plant is currently under construction about 1/2 mile south of the new Superior Silica plant. The WN is gonna have to make double track main from CF to New Auburn if you ask me.
I still have yet to hear/learn the sand traffic patterns coming about. With all this sand it would be pretty neat if the WN purchased some bigger motive power. Like GP38-2s or even SDs. Probably not, but not out of the question.

Oh and the EOG sand plant in CF has started storing sand. Wont be long and hoppers will start rolling out of that plant too. I really need to get some pictures on here...

Thats all for now
Enjoy

Jordan
---
Reply author: Jordan114
Replied on: 10/03/2011 4:50:13 PM
Message:
Ollie I forgot to comment on your reply. Sorry...

The WN is turning out to be an awesome prototype to model. I am so happy the way things have been turning and working out. And for a fairly short, short line it is an amazing diversity in rail traffic. Hoppers 4,3 and now 2 bays, coil cars, tankers, gondolas, centerbeam flats, bulkhead flats, boxcars and pulpwood like flatcars. Most trains are pretty diverse and visually interesting which will blend well with modeling. And with the bad track and 10mph slow orders this will make each modeled train longer to run the whole layout (who needs to have a mountain railroad to drive slow??
)

Overall it has been a great rewarding journey so far!!

Jordan
---
Reply author: Jordan114
Replied on: 10/04/2011 9:48:15 PM
Message:
Well I finally got some pictures of the EOG sand plant in Chippewa Falls today! They were taken with my phone and arent the best but they'll do.

First of all here are pictures of the company trucks that haul the sand from the mine to the plant. VERY VERY NICE SEMI AND TRAILERS. The trucks are Kenworths and the trailers are aluminum belly dumps. The facility the trucks are parked at is just down the road from the plant. Used to be a house there. Demolished it, built a huge shed to service the trucks and a massive parking lot to store the trucks when not in use.

I mean ROWS of trucks!! The red building in the background is the maintenance shed.



Here is the massive EOG Frak Sand Plant. Look at all them hoppers!!



These are the sand storage silos.



The 2 track loading overhead. This in itself is huge.



This one you can see all the sand piled up getting ready to run through the plant once ready.



I plan on getting more and better pictures of this plant. But I took some pictures of a couple other industries in Chippewa Falls.

Here is the transloading conveyor for the Salt and Fertz from rail to truck. Located on the north part of the old Cornell Wye.



And here is Pliant Plastics. When I was taking the pictures they were unloading the plastic pellets from the hoppers.

Front half



Back half



Barry I noticed while taking the Pliant pics that there are 2 loading docks on the Spectrum building next to pliant that have rail next to them. Does Spectrum receive rail service anymore?

Enjoy the pics!!

Jordan


---
Reply author: BOK
Replied on: 10/04/2011 11:03:44 PM
Message:
Hi Jordan:

Great pictures and congratulations to the WN on the sand business.
I don't think it would be a stretch to re-install the dairy in Bloomer and seeing both the older 57'reefers and modern 72 ' ones would be neat and certainly add color. However, I believe the reason they closed the facility was because it was antiquated and probably didn't meet modern government regulations or was too costly to upgrade and continue to operate.

As for the Spectrum building in CF, I seem to remember it was some type of wood molding, furniture? company or a paper warehouse which was not at all interested in shipping by rail. When we began the WN, and btw you were correct it was started up in November 2004, we called on the potential customer and they evidently had a bad experience with CNW/UP service and wanted nothing to do with rail.

Some times former customers are happy to be serviced by a new , innovative, short line and sometimes they almost through you out the door when you pay them a visit.

Barry
---
Reply author: Jordan114
Replied on: 10/05/2011 3:08:54 PM
Message:
Hey Barry:

Glad you liked the pictures.


I am brain storming some ideas about the dairy. But first of all if this dairy would have been active to this day, where was the product shipped to by the railroad? And how many reefers were normally seen there during a week?

Yeah as far as I know they manufacture furniture. Too bad they missed out on such a reliable shortline to take care of them. Were there a lot of "old" costumers that didnt want rail service again when you were scouting business for the WN?

Thanks Barry!!

Jordan
---
Reply author: BOK
Replied on: 10/05/2011 10:52:09 PM
Message:
Jordan, the dairy had only one loading door for reefers although they had plenty of room on the siding to hold other cars. I think the company who owned the dairy was Land of Lakes and it either shipped cheese and butter to their processing facilities or more likely those commodities along with possibly powdered milk were shipped to government warehouses for programs like school lunches. There wasn't any set number of cars on spot at the dairy since they only shipped when there was a government contract to fill so it was often hit and miss.

There were some rather large shippers like the Oreida Fried onion plant in Rice Lake who at one time had received inbound reefers of onions for processing had removed their track after the CNW had either raised their rates or as a result of poor service and went strictly to truck. Once that occured, the distribution pattern was established, the folks in the plant become complacent with trucks and didn't want to change anything (especially young managers who never had used rail but heard "horror stories" from previous managers and were afraid to try it again)so it was hard to get your foot in the door so to speak. Then again, often the origin point of the shipment no longer had rail service and therefore truck was the only answer.
The CNW did not want to stop the trains which moved between the Twin Ports connection with the CN and Chicago because it was very lucrative traffic(lumber, newsprint, potash etc.)and they wanted nothing to delay it or increase their expenses. The less times a train stopped between those points the quicker it made it over the road and with less crew time so the CNW (and other railroads in the 1960-80s) did their best to discourage local business which in the long run probably cost more to provide than what was received as revenue. That was one reason I left the CNW and went to the Soo Line, because they took better care of their local customers.

Another thing to keep in mind with the WN is that they lease their track from the UP (don't own it) and generally ( this may have changed with the sand business)only receive a switch charge as payment for handling WN customers rather than participate in a percentage of the more profitable origination/termination revenue which all goes to the UP. Also the UP as the only connection for the WN controls the rates for movement on and off the WN so if it isn't profitable for the UP or they don't have enough space on their trains through Eau Claire and/or they don't want to put on extra trains to handle new, WN business, they simply bid a rate higher and the shipment goes truck. This is one of the dangers of only having one interchange railroad to connect with. You have less options as a short line.
I have been told, as an example of this, that recently, some of the sand which could have moved on the WN-UP didn't, because the UP wasn't competitive in it's rate. Instead it was trucked to the MNNR (Minnesota Commercial Railroad) across the river in in Hugo, MN. where it was trans-loaded to railcars for the MNNR to haul to the BNSF in Minneapolis and further movement because they were more competitive.
One other thing to keep in mind, is that most short line railroads loose about 10% of their business every year often due to circumstances beyond their control so they have to continuously seek new business and can never rest on their laurels because if they do, they eventually will go out of business.

well, this is probably more information than you wanted to know. Railroading can be a tough game, especially short lining and as you are discovering it is more than just putting fuel in a locomotive, starting it up and switching cars. You have to be really sharp and constantly figuring out how to be more innovative than the competition to "stay in the game". If not, you lose.
I have seen this business from many sides and at one time had the goal of owning my own railroad, but no more. I would rather work for them so I can sleep at night rather than own them and be kept awake at night worrying about whether there will be enough money to pay bills, meet the payroll and then constantly be looking for new business. Some times it's more relaxing and fun to be "behind the scenes".

Enjoy,

Barry
---
Reply author: Jordan114
Replied on: 10/06/2011 6:14:32 PM
Message:
Barry thanks a lot! Its never to much information! I have learned so much information about the WN and I know other members on this forum are enjoying reading about your knowledge of railroading. Let me tell you, if you hadnt joined this thread I would not be where I am today with the WN. Every time you reply I learn something new. And I appreciate it very much!

Regarding the dairy... I was trying to think of something plausible to bring this dairy back to life and I think I may have something. Perhaps in 1986 when Associated Milk Producers (AMPI) purchases Falls Dairy Company in Jim Falls, Wisconsin they also looked at the potential of purchasing the dairy in Bloomer. AMPI was willing to put forth the funds to expand and upgrade this facility to government standards. One of these upgrades (maybe it already was using this method) being the conversion to coal burning for power of the plant. To this day the Jim Falls AMPI Dairy burns coal (which is shiped in by truck) for power because it is cheaper than natural gas. So it would be plausible (to me anyway) that this facility was equipped to burn coal for power as well. The use of coal gave me another idea, the railroad can supply it. Hoppers of coal could be spotted over an unloading pit, coal dumped onto a conveyor and put in a pile. An underground conveyor feeds the dairy with coal from the pile. Then it struck me that the AMPI in Jim Falls could use this coal as well. An end loader could scoop up coal from the pile and fill trucks that head to Jim Falls. This would give me an excuse to have a few more hoppers of coal spotted at the conveyor. Outbound cheese, butter and dried milk are shipped in reefers destined for distribution warehouses.

And like many of the other industries on the line when it was served by the UP, the AMPI Bloomer Facility couldnt handle the once a week local. Having to store product was taking up space and costing money. The dairy then began to seek out more truck business to transport the products. But with the formation of the Wisconsin Northern and more reliable (5 days a week) service the railroad has been able to recover most of the dairy traffic back from the trucks. The WN has prospered with this traffic. Constant shipments of coal and the exceptional cheese/butter/dried milk shipments have added to the WN's bottom dollar.

Does this idea sound plausible, like it could have actually happened? Thats my idea of it for now.

I never really thought about that before Barry. With the UP the only interchange, it can basically control the WN and its customers. Now this is just a question. Could the WN have an interchange with the CN? I know the CN crosses the UP on the south side of the Chippewa River before the UP crosses the river and over to Norma. So say a CN local comes from its CF yard and runs to the UP/CN junction and then trackage rights over the UP to Norma.

Speaking of fuel in the engine... what was the "servicing area" for the WN locos?

And yes I would gladly take sleeping at night than all the worries of owning a railroad. But if you had owned one I would come work for ya!


Jordan
---
Reply author: IAISfan
Replied on: 10/07/2011 2:19:51 PM
Message:
Jordan, I'm new to this forum - first post, in fact - but your thread caught my eye. What you're talking about reminds me a lot of when I first got interested in the IAIS and found an employee who was willing to answer my questions. I think you're smart to focus on a smaller prototype with simple operations like the WN, and I believe you're in for a lot of enjoyment with your research and modeling.

Best wishes!


---
Reply author: Jordan114
Replied on: 10/07/2011 6:05:01 PM
Message:
Hey Joe, Thank you for chiming in on my thread! First of all I want to say I really enjoyed your article in the MRP 2011! The article was one of the contributing factors of me swapping to a modern short line. How is the layout progressing?

I am very very happy with the decision of modeling the WN. Especially after Barry joining this thread! Like you said its very nice having an (ex)employee to share stories and information. Never talked to a railroad man before and its been so invaluable! I am already enjoying and benefiting from my choice of modeling this awesome short line. And like your example living close to the railroad you model is very beneficial!! For example me today, I drove through New Auburn and saw the WN ex-SP SW1500 switching cars at the sand plant. Even just a short glimps I gain more and more information. Right now this is way more fun than my previous freelanced coal hauler I was "planning".

Thank you again Joe for commenting. And its nice to have you on the forum! Look forward to more comments on my thread from you and any knowledge you have to share!

Jordan
---
Reply author: BOK
Replied on: 10/07/2011 9:17:34 PM
Message:
Good Evening Jordan and all:

Again you have some good questions which i will tackle. But first a question. Do you know why the WN is called "The Weyerhauser Route" since it dosen't go near Weyerhauser? years ago the Soo Line track which goes through Barron was the original Soo Line and it crossed the original Wisconsin Central (not the one I worked on in the 1980s but the one from the 1880s)at Ladysmith on a "diamond" crossing. The crew change/division point for WC crews from Superior to St. Point was Ladysmith. The crew change/division point for the Soo was Weyerhauser and it had a small yard, turntable and roundhouse. When the new Soo Line of 1960 was 'born" it consisted of the Soo, Wisconsin Central and Duluth South Shore and Atlantic railroads. As a result of this "merger" the crew change point for both Soo and WC crews became Ladysmith and Weyerhauser just faded away. Sometime I can tell you about the hot container trains 909 and 910 between Minneapolis and Rhinelander and 911 and 912 between Rhinelander and Sault St. Marie, Ontario from the 1970s.
So, now we know where the Weyerhauser slogan came from but why the PGR chose it? They had more dreams and less funds and had hoped to readily make a Cameron-Ladysmith connection and beyond?weyerhauser? Basically the guy who put the original WN plan together (not PGR's owner) wasn't a railroader, just a railroader "wanna be" who didn't undersatnd what he was getting into. But that again is another story for another time.
Okay, I used up all this space and didn't answer question one so I'll stop and start another post.,

Barry
---
Reply author: Mike Hamer
Replied on: 10/07/2011 9:57:09 PM
Message:
Hi Jordan, It is fun following along with your planning of the layout. I recall my extreme enthusiasm when I was at the same stage way back when I planned my B&M pike. I have a friend who, like you, models a railroad not too far from our home up here in Ottawa, Ontario. It's a ton of fun going trackside and photographing the actual industries to model. Both you and my friend are lucky as the information is not too far at hand. (I have to research what went on back in the 50's)

That paint scheme sure is a "looker" in my books. Your protoype shots are great. Just a bit of advice when snapping shots of the models. Use a tripod and set the camera on delay so that the action of pressing the shutter does not create a blurry photo. Best model shots happen with the flash off as well.

I look forward to following your progress on the layout. For sure, model railroading is fun!
---
Reply author: BOK
Replied on: 10/07/2011 10:32:44 PM
Message:
All right lets talk about the dairy at Bloomer and some modeling ideas.

First I believe you were right about the ownership of the plant being AMPI (American Milk Producers Inc.) rather than LOLs. I recall the plant being coal fired and there was plenty of room on the siding for extra coal cars with the boiler room on the north east side of the building. A simple elevator/conveyor north of the unloading pit, could work to trans-load coal from rail to truck and move to the Jim Falls facility. In fact, it might have happened if the Cornell line had been abandoned before the Bloomer facility shut down.
Now about out bound product which was probably all mechanical reefer and loaded through a single, large door just south of the coal pit on the siding. I guess the real question would be, does butter and cheese still move by rail to government warehouses or is that program over? move by truck etc.? And if it does, could the Bloomer facility really be re-habbed for this service? The other thing is, is the market there to justify another plant with the Jim Falls facility close by and most important is there enough dairy farms to support it? Wisconsin is no longer the dairy state...California is. While we ponder those thoughts, let me share a story about the day the WN and the City of Bloomer hosted an out of town "speculator" who wanted to visit the dairy to see if it could be converted to an ethanol plant.

Now, you need to know that ethanol owners receive a government subsidy of a million dollars a year just for trying to manufacture and market ethanol. It does not matter whether they make a profit or not they still get the subsidy. With that in mind, I really think the "speculator" had one goal when he arrived at Bloomer that dark, fall day for his visit to talk with folks and tour the old dairy. He wanted to get funding from either the city, state or federal folks to build his plant so he could get the subsidy whether he made a success of the venture or not. I'll say one thing for him: he knew how to talk...a lot. In fact I was glad I was wearing my safety boots that day.
Shortly, after lunch, we all (about a dozen people)went over the old dairy and met the caretaker who opened up the building and led us on a floor by floor (I think it was either a two or three story building) tour and explained what processes were conducted in each room. Most of the old office furniture and manufacturing equipment was still there but in really sad shape. It was also kind of "spooky" walking in that old building especially in the basement cooler area? since most of the power was shut off and only limited lighting was available. It was easy to envision all the many people who had worked there through the years and all the noise and activity of the plant, which still smelled faintly of milk.
Unfortunately, the tour showed that the condition of the plant was badly in need of updated/improved electrical service, plumbing, sewer and structural repairs along with modern refrigeration equipment. The old stuff was simply wore out when they shut down, and it probably would have been too costly to renovate to meet government regulations for continued service. A side note. shortly after the tour and meeting with city folks, it was obvious to the "speculator" that 1. the dairy building would not work and 2. there was no easy, fast funding for his plant. He made a rather hasty but friendly departure and was not heard from again. All in all it was an interesting way to spend a fall afternoon in Wisconsin.

But let's not leave the subject of the dairy on a negative note. Let's say, there were enough dairy producers available and the government continued to buy reefers of butter and cheese? What would a modern, Bloomer, facility look like? I believe first it would be located north in the industrial park for better truck access and it would be a large, steel, single floor, refrigerated, structure with four truck doors and two rail doors along side a new six car spur off the WN. Okay, start dreaming and get out the Pikestuff building kits to construct a modern dairy plant.

Next time we'll talk about railroad connections other than the UP for the WN and where the locomotive facilities were/may still be located for the WN in CF. Some time remind me to tell you about another proposed/ but never built food shipper south of Rice Lake and the reefers we talked about painting for this service.

I have again rambled on way, too long and need to wrap this up. There is an Atlas Genset locomotive on my work bench which needs to have a DCC sound decoder installed.

Take Care,

Barry
---
Reply author: INRAIL
Replied on: 10/07/2011 11:07:41 PM
Message:
This is going to be really cool! My kind of railroad. :o)
---
Reply author: MarkF
Replied on: 10/08/2011 12:56:29 AM
Message:
I'm enjoying this as well. Jordon, you are very lucky to have someone like Barry to provide all of this valuable information and keep the juices flowing. It's going to be interesting to see how you translate all of this into your layout.
---
Reply author: IAISfan
Replied on: 10/08/2011 08:55:24 AM
Message:
quote:

---

Originally posted by Jordan114

Hey Joe, Thank you for chiming in on my thread! First of all I want to say I really enjoyed your article in the MRP 2011! The article was one of the contributing factors of me swapping to a modern short line.

---


Very kind of you Jordan, thank you. I'm really glad to hear it was of some use to you, and humbled that it played a part in your decision. I think you've got the potential for a really great layout with the WN.

To be honest, I haven't kept up with all the newer short lines out there, and hadn't remembered hearing about the WN before. When I first read the title of your thread, I thought it was freelanced.
When I hear about the WN now, though, I'll associate it with you. So in my mind, it's "your" railroad now.


quote:

---

How is the layout progressing?

---


Slowly! After the article was finished, I turned my attention to preparing for a couple of big operating session weekends - ProRail in May and OS Omaha in June. Most of that work was invisible, just trying to be sure that things ran well, but I also worked on items to help operators (e.g. proper documentation, track diagrams on the fascia, etc.), added tall fascias around my staging yard, and put down my first-ever scenery - a layer of ground cover over the whole layout.

After the op session weekends, I was a little burned out on layout work, so I've spent the last several months upgrading my rolling stock roster. I replaced my LBF and Walthers Coalporters on my UP coal train detour with Athearn cars that had separate grab irons, and replaced all my old Athearn blue box and Accurail grain covered hoppers with newer ExactRail, Intermountain, and Tangent cars with etched running boards.

Most recently I've been putting the finishing touches on a few more locomotive and rolling stock projects and starting back to work on the layout, focusing on Bluffs yard and the enginehouse area there.

Updated photos are at http://www.iaisrailfans.org/gallery/Sub4WestEnd .


quote:

---

I am very very happy with the decision of modeling the WN. Especially after Barry joining this thread! Like you said its very nice having an (ex)employee to share stories and information. Never talked to a railroad man before and its been so invaluable!

---


Definitely. Barry's a great guy, and one of the most helpful railroaders I've "met" on-line. I started speaking with him through the Proto-Layouts list on Yahoo Groups, and always value his input.


quote:

---

I am already enjoying and benefiting from my choice of modeling this awesome short line. And like your example living close to the railroad you model is very beneficial!! For example me today, I drove through New Auburn and saw the WN ex-SP SW1500 switching cars at the sand plant. Even just a short glimps I gain more and more information.

---


I'm really glad to hear it wasn't just me!
Over time, I think you'll see that just getting better and better.


---
Reply author: Jordan114
Replied on: 10/08/2011 11:17:51 AM
Message:
Thank you all for the kind comments!


Barry: That is actually funny that you told me about the "The Weyerhaeuser Route" slogan. I was going to ask you that the next time I replied!!
I'm assuming the route to Ladysmith would have been for a connection to the CN?

Well after sleeping on it I dont think I will bring the old dairy back. Helping my dad on the farm (cash crop) for 17 years and being around the dairy industry for so long with my dad being a cow nutritionist I can see that this dairy would have had slim chances of surviving to this day. And with your story about going through the plant with the ethanol speculator pretty much sums up that the plant would need a major "overhaul" to get into operation again. But this is not a total loss to me. As Joe Atkinson is doing with his elevator in McClelland, Iowa, I will model a low relief structure resembling the plant or a photograph to add "past" to my layout. It will be a reminder of when Wisconsin was the dairy state! Plus I dont want to stretch too far from the truth and make the WN seem freelanced.

To be honest the old dairy looks way to small to be an ethanol plant. But Im sure if it was converted to an ethanol plant it would look nothing like it does today.

Just another question to add to the list
: Was/is there any bio diesel industry along the WN? I've seen photos of tank cars that were loaded with bio diesel but have no idea where they came from or where they were going.

Cant wait for the next stories Barry!! Thank you for taking your time to answer all my questions!


Mike: Thanks Mike! And yeah I notices the photos were blurry.
Never done model photography before so thanks for the advice!! Ill get some BETTER ones on here as soon as I can.



Tom: I was thinking this would be your kinda railroad.
The pictures of your L&IN actually inspired me to model in the late summer/early fall. I cant give you all the credit though cause my girlfriend loves fall and thinks its cute how I love trains so I am mainly doing it for her.
But questions as to your beautiful scenery work will be going to you!


Joe: Lets call it even then. I didnt know the IAIS existed until your article!


I looked at the website about the IAIS and your layout! Looks really good so far!! I actually spent some time yesterday looking over the whole website and reading about the operations of the IAIS. Very awesome railroad indeed!

Keep up the good work Joe and cant wait to see/hear more about your progress!


My Turn
: Well due to unavailability of Athearn ACF 2970 (dont know if this is the EXACT hopper, but it would be my "good enough" as Allen McClelland would say.) hoppers Im left with no choice but to take a different turn from the "modern" sand operations going on right now. Every sand plant along the WN is using this particular hopper for this service. But all is not lost!! I can just model the Fall of 2010! This date is when sand operations were only located in New Auburn along the 100 car siding located there. The cars used for this service as I have mentioned before in this thread were Thrall gondolas. I have been able to find just a few 5 car sets but thats okay as this sand operation didnt need cars everyday. Usually a 100 car train was brought to the siding by the WN crew and left there for a front end loader to fill each car with sand. Which as you can guess took a very long time, maybe a week or 2 at a time. But Im going to ask more specifics about this operation.

Well thats all for now.

Enjoy!!

Jordan
---
Reply author: IAISfan
Replied on: 10/08/2011 11:59:59 AM
Message:
quote:

---

Originally posted by Jordan114
As Joe Atkinson is doing with his elevator in McClelland, Iowa, I will model a low relief structure resembling the plant or a photograph to add "past" to my layout. It will be a reminder of when Wisconsin was the dairy state! Plus I dont want to stretch too far from the truth and make the WN seem freelanced.

---


In addition to McCelland, after the article went to press, I decided to do away with all my previous attempts to model industries that were no longer using rail by my era, or that didn't come along until later - a couple of cement plants and a transload operation. Without exception, I'm glad I did it. The limited impact on operation was more than offset by the enjoyment of knowing that I was finally modeling how things really were in my era, not some idealized version of reality. That really took the fun of this hobby to a whole new level for me. The other thing to keep in mind is that spurs serving these idle industries are sometimes used to store MOW rolling stock (e.g. company service flats, ballast cars, and boxcars), so you can still have a prototypical reason to switch those tracks, albeit infrequently.


quote:

---

Well due to unavailability of Athearn ACF 2970 (dont know if this is the EXACT hopper, but it would be my "good enough" as Allen McClelland would say.) hoppers Im left with no choice but to take a different turn from the "modern" sand operations going on right now. Every sand plant along the WN is using this particular hopper for this service.


---


Jordan, are you aware that Intermountain also offers a similar ACF 2-bay Center Flow covered hopper? You can see them all at http://www.intermountain-railway.com/ho/hohoppers.htm , about halfway down the page. Also, don't give up on the Athearns too quickly. I'd imagine they're still available through outlets like Ebay and the HOyardsale list on Yahoo Groups, as are the IM cars.


---
Reply author: Jordan114
Replied on: 10/09/2011 12:05:39 AM
Message:
Thanks for your encouragement Joe! After I read your post I decided to take a harder look. And you'll never guess what turned up.
I found at least 2 hobby shops that have undec Athearn versions. So now I get to model what I am watching today!

And I think I am just going to stick to strictly prototype. This will keep me focused on the job at hand. But like Barry said with short lines looking for more business every year, I dont think it will be long until more business pops up along the line!

Oh, and I was not aware of intermountain carrying them. Thanks for the heads up!

Do you think you will ever add the non railroad structures? Perhaps once most of the railroad is "complete"?

Thanks again Joe

Jordan
---
Reply author: IAISfan
Replied on: 10/09/2011 03:26:30 AM
Message:
quote:

---

Originally posted by Jordan114
Do you think you will ever add the non railroad structures? Perhaps once most of the railroad is "complete"?

---


What non-railroad structures are you referring to Jordan?


---
Reply author: Jordan114
Replied on: 10/09/2011 09:42:11 AM
Message:
quote:

---

In addition to McCelland, after the article went to press, I decided to do away with all my previous attempts to model industries that were no longer using rail by my era, or that didn't come along until later - a couple of cement plants and a transload operation.

---


Will you ever model these (ex) industries such as McClelland Elevator, perhaps after you have the layout complete? Sorry if this isnt making any sense.

Jordan
---
Reply author: IAISfan
Replied on: 10/09/2011 1:54:40 PM
Message:
quote:

---

Originally posted by Jordan114



quote:

---

In addition to McCelland, after the article went to press, I decided to do away with all my previous attempts to model industries that were no longer using rail by my era, or that didn't come along until later - a couple of cement plants and a transload operation.

---



Will you ever model these (ex) industries such as McClelland Elevator, perhaps after you have the layout complete?

---


Oh, sorry. Yes, I'm planning to model everything within each layout element as I build through the area, regardless of whether they're actively getting rail service. They're still a big part of recognizing the respective areas, so things wouldn't look right without them. McClelland Elevator in McClelland and Ready Mixed Concrete in Council Bluffs will both be 3D models, while American Concrete in Atlantic is about a quarter mile south of the tracks, so it's only seen on the photo backdrop, with the spur (labeled "wye" in the MRP layout plan) diverging in that direction before running into the backdrop.

The double-ended siding that would go on to serve Ready Mixed in August 2005 on my prototype was still in use during my spring 2005 era as an overflow storage track for busy Searle Petroleum, so it'll probably be switched even more frequently now than it was under my original plan. I just won't have an excuse to model those two-bay cement covered hoppers I like. I'll have to live vicariously through yours!
---
Reply author: BOK
Replied on: 10/09/2011 5:12:21 PM
Message:
Good Afternoon Jordan and all:

Jordan had previously asked about interchange connections for the WN.
When the lease arrangement was put together for the WN leasing the UP track from CF-Cameron
(the line from Cameron to Rice Lake had previously been purchased by the WC when it was part of the Cameron-Superior purchase which is another interesting tale)the boundaries were established so the WN could not physically reach the CN at CF. This was done so the UP could control all the traffic coming off the WN.
Even if the WN did have operating rights down the hill from Norma and across the river to meet the CN, there is no interchange track between the CN and UP. Originally, there was a push in-pull out interchange track between the Soo and CNW but it was not a "through" type interchange and there wasn't room to build one without a lot of expense.
Aside from this, the bridge over the river south of Norma (CF)has a weight restriction of 268,000 lbs. not 286,000 lbs. like modern freight car loadings which limits the weight of cars interchanged to/from the WN. In order to remedy this situation it would be extremely expensive to replace bridge members on the Eau Claire (?) river bridge to handle heavier cars. With that in mind, I wonder if the sand cars now handling that new business are being "light loaded" (not loaded to full visible capacity or the sand does not weigh as much as say loaded plastic resin cars) or can be "full loaded" to capacity without exceeding the bridge capacity weight? That bridge weight "issue" was another thing the "rail wanna be" failed to understand before he signed the agreement with the UP to lease the line which further weakened future, marketing possibilities for the WN. This was little known fact which was discovered shortly after we took over operations on the line but too late to back out of the deal.

Okay, if the WN couldn't reach the CN via CF then why not re-hab/rebuild the track from Cameron to Ladysmith for another class 1, railroad connection? In principle a good idea and it was strongly considered until the cost of placing it back in operation was discovered.
When the topic of purchasing the CN line was discussed by PGR folks, I explained that the former Soo/WC track was in such poor condition when the WC operated it, (it had been part of my territory as WC trainmaster out of New Brighton, MN) in it would cost millions of dollars just to get the line to a safe, 10 MPH operation. Added to this would be the crew time/expense of taking at least 8 hours just to make a round trip over and back from Cameron to Ladysmith not including any revenue switch moves enroute. In short, there had/has to be some really good revenue/possibilities/new business on line to support the millions needed to re-build it. In addition, the tall, steel bridge over the river just east of Cameron still gives me shivers and I doubt that without maintenence being performed in the last ten years on it, it's not in good shape. It would be a shame to spend a lot of money to re-hab the line and then have the bridge fail. BTW at this time the point is moot, since the CN still owns it from Ladysmith to Almena and the Counties are attempting to buy it to lease to the WN or another railroad.

Again, not to leave on a "sour" note. It would be easy to "envision" if for modeling purposes, that another sand or ethanol plant was built at say, Weyerhauser, they re-habbed the little yard there and put on a switcher local to handle that new business plus feed both Cameron and Ladysmith (I would bet the CN would be happy to have you switch the propane distributor at Ladysmith for them). Now if that new plant (Walthers Glacier Gravel) is on a long spur, maybe a couple of miles and across road crossings then you will definitely need a caboose ( how about one of the old MP (Missouri Pacific last road cabooses)for safe shoves and no run around track at the end of the line...there you go a prototype you can model. Now that I think of it, there were some large, sand, gravel,rock pits/quarries south of that line that the WN bought trucked in ballast from when the line was re-tied after lease. There you go, the reason to go to Ladysmith.

Before I close this "way to long" post, remind sometime to tell you of my "idea" for a steam excursion/diesel dinner train on the WN. Think Soo Line 2719. That was thought up one day when I had way too much time on my hands working as an engineer moving salt cars on the Norma wye every half hour for unloading.

Jordan, you had previously asked where the WN diesel servicing facilities were located? We determined the best place to tie down the units was the lead to Pliant plastics since it was well lighted (security), there was adequate employee parking and we used the fax machine inside the plant to receive interchange lists from the UP. Fuel was delivered friday afternoons by truck, either at that location or on-line if the power (locomotives)were tied up short of CF on tuesdays/thursdays. Any repairs/inspections were performed there and sand was shipped up to Badger Resources in Chetek where we use their fork lift to raise pallets of sand bags for weekly sanding of the locomotives. Most of the office/computer work was conducted out of our (mine and my wife's Eau Claire condo). See you really don't need much in the way of facilities to run a short line. However, with the increase in business, more crews and locomotives I would bet that the WN either has office/maintenence/supply storage at the new, CF, sand plant or is building one close by. It will be interesting to see how things progress for them and I wish them all the best.

I am always open to your questions and clarifications. Until next time, take care.

Barry
---
Reply author: Jordan114
Replied on: 10/10/2011 11:41:26 PM
Message:
Joe I'll try not to rub it in too much.
Here is link to a video of what the sand trains will look like up and down the UP and WN.
http://www.youtube.com/watch?v=DRK9ZoPEnds

And I can finally answer one of your questions Barry!
I have seen in photos of the gondolas that were used for hauling sand and they only had them filled about half full. And just last week when the first sand train using the new covered hoppers arrived in Norma, one of the hoppers had to be sent back to New Auburn, because it was over loaded with sand. So that explains both of those situations!

And thanks a lot explaining the interchanges. Now I know why the WN isnt connected with the CN at Ladysmith. And I enjoyed your little story as to how to resurrect this line. I've always wanted to model an ethanol plant!! And the caboose idea is GREAT! Doesnt PGR have its own caboose. Now isnt Soo 2719 displayed in Ladysmith? That is another great idea.

I think it would be cool if the WN builds an engine facility. Great for modeling!

I want to write more but this is it for tonight. Just got done harvesting 250 acres of Soybeans in less than 24 hours and Im pooped! Ill write more tomorrow.

Jordan
---
Reply author: IAISfan
Replied on: 10/11/2011 4:45:14 PM
Message:
Neat videos Jordan!


---
Reply author: Jordan114
Replied on: 10/11/2011 10:08:59 PM
Message:
Well Im gonna say right now that, that WN video and all the other ones on YouTube are from a man named Chris that plies the WN rails to capture such amazing videos of the WN at work. Much of his videos are all I have for insight about how the WN operates "visually". I hope to start getting out more to get my own glimpse of the WN.

But Im glad you enjoyed the videos!!

Jordan
---
Reply author: MarkF
Replied on: 10/12/2011 12:46:27 AM
Message:
Yes, great videos, but it appears your going to need a LOT of hoppers! WOW!
---
Reply author: brakie
Replied on: 10/12/2011 11:41:54 AM
Message:
quote:

---

Originally posted by MarkF

Yes, great videos, but it appears your going to need a LOT of hoppers! WOW!


---


That or model a branch line that doesn't need a zillion and one covered hoppers.
---
Reply author: Jordan114
Replied on: 10/12/2011 9:48:09 PM
Message:
quote:

---

Yes, great videos, but it appears your going to need a LOT of hoppers! WOW!

---


Yeah Im gonna need a lot of hoppers... 3,4 and especially 2 bays now with the sand service. But this is okay with me because the long strings of covered hoppers will replace my 2 bay coal hoppers I was once going to model on my 1950s freelanced coal road.


quote:

---

That or model a branch line that doesn't need a zillion and one covered hoppers.

---


There isnt exactly a branch line that is model worthy on the WN. By itself anyway! See the branch to Barron isnt very busy, a few loads of feed for Jenny-O(weekly), a couple hoppers of ferz(seasonally), and a couple flats of poles for Bell(monthly) and the branch to Rice Lake is ferz(seasonally), Besse Forest products, and Shadow plastics(every couple weeks). I wont model these towns ALONE, I would like one or two others for variety in operation.

Im still thinking of ways/what to model. With a single deck design I can only model 2 towns with the long,country mainline run I want between towns. With a double deck design I can basically double that and get 4 towns. Norma, long main line run to Bloomer, helix (which will be the long mainline run between these towns) up to New Auburn, then another long run to Chetek. Decisions, decisions, decisions!! Any thoughts, ideas, and/or advise is more than welcome.

Barry: What did you use the PGR SW1500 mostly for?

Jordan
---
Reply author: Jordan114
Replied on: 10/15/2011 12:44:03 PM
Message:
Hello everyone.

I have some more pics of the WN. Yes again with my phone and some through the window of my van. So sorry for the poor quality.

Anyway I drove over the bridge that crosses the UP/WN interchange in Norma. It looked like a new train was just brought in that previous night from the UP. Later that afternoon I drove to the "yard" and there were the twins (1500&1501) switching cars for the trip north. The crew had already switched Pliant Plastics which was a bum because I wanted to watch how they switched it. They uncoupled some covered hoppers and were then finally on there way to Bloomer and points north.




The hoppers from Pliant being uncoupled from 1501.



And the WN train heading north for the day.




And yesterday when I was driving along Hwy SS which actually parallels the WN right of way all the way from Bloomer to Rice Lake. Anyways I came up to New Auburn and boy were the tracks full!! In New Auburn there is a 100 car siding, the main and the small "balloon" type siding for the new sand plant that juts out from the 100 car siding. Let me describe how full the tracks were since I dont have pictures. The siding was FULL of old 3 bay covered hoppers that were going to be loaded with sand. The main line that runs next to the siding was FULL of 3 bay hoppers and north of the North switch to the siding had another 50 or so 3 bays sitting there too. And right in the middle of the mess I saw WN 1501 waiting for duty. I have never seen so many hoppers in this one location before. So I went driving up the road and there was GMTX 134 (Former UP SW1500) pulling a freight south towards New Auburn. It looks like the crew used this engine to switch the industries in Chetek and Barron. My first thoughts were what a mess it was going to be to get that train past all the hoppers and back to Norma. I didnt get to watch them either but it would have been cool to see how they worked everything out.

Enjoy,

Jordan
---
Reply author: Jordan114
Replied on: 10/16/2011 9:00:39 PM
Message:
Okay I figured I should get some pics of the layout room on here for everyone to see.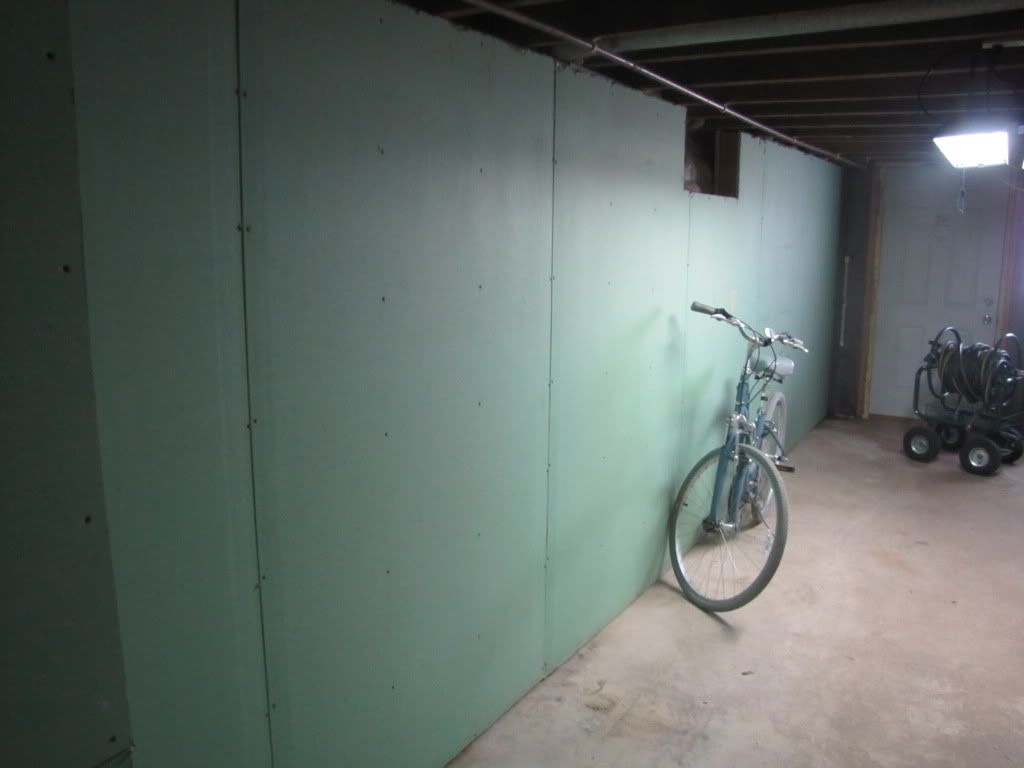 And here is the layout space in 3/8 to the foot scale drawing of the room.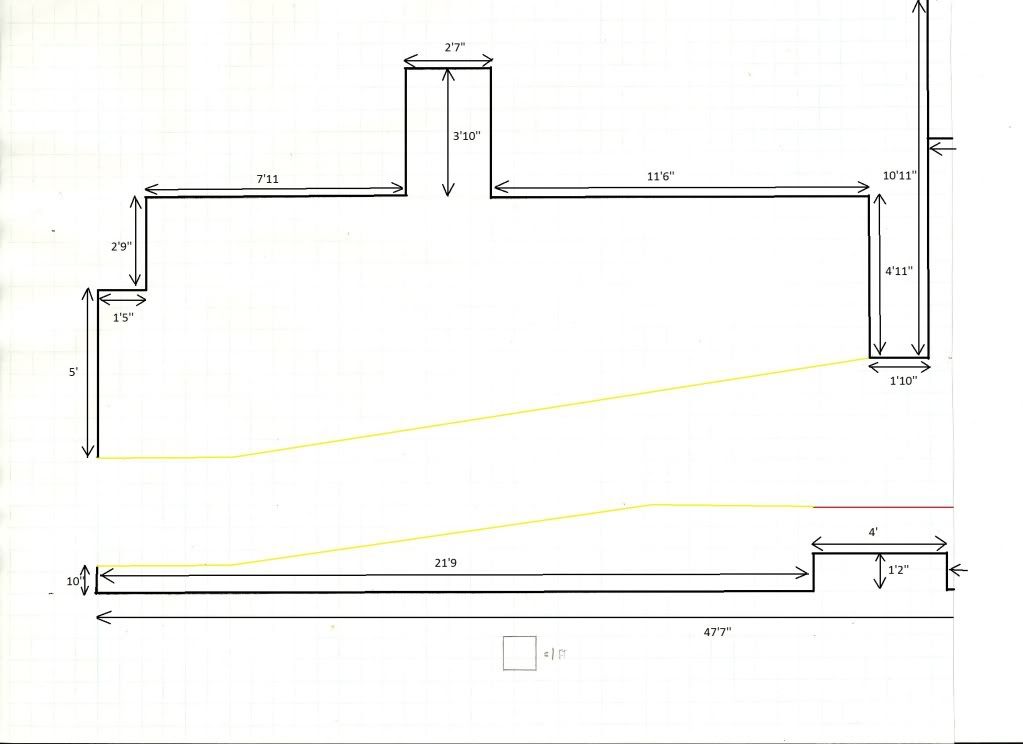 Update on the WN. The second sand plant in New Auburn is kicking butt. They have the third storage silo built and I am thinking they are gonna be loading sand before the snow falls!!

The EOG Sand Plant in Norma should be loading soon as well. They are just working on finishing the conveyor that leads from the plant to the loading shed. And this is just an educated guess, the EOG plant has a 3 track hopper storage yard, 2 loading tracks and the 6th track leads into and through a shed next to the loading building. What I am guessing is that they are actually going to bring "raw" sand in by rail and have it dumped, washed and then reloaded into covered hoppers. This would be just like a coal prep plant! How operationally fun that would be for a layout! I will find out more when I can and see if this is true.

Oh and the Cornell Wye is going to be having some activity going on there. There are backhoes and huge industrial dump trucks sitting there. And apparently the area has been staked and surveyed. Hmmmmmm I wonder...

Just a little update. Enjoy!

Jordan
---
Reply author: Ollie
Replied on: 10/19/2011 07:37:13 AM
Message:
This thread has a lot of information and insights that will benefit any modeler on planning, modelling and opertating any layout! :)
---
Reply author: Tabooma County Rwy
Replied on: 10/19/2011 10:55:10 AM
Message:
Jordan, nice photos of your "fresh" layout room - looks like it will be a great place to build a layout!

Question: what "program" did you use to make your scale drawing? I need to do the same thing for my new room.

Thanks,
---
Reply author: Jordan114
Replied on: 10/20/2011 12:16:25 PM
Message:
Ollie: Im glad you are enjoying this thread! The journey for me has been highly rewarding!!

TC Rwy: The space is nice indeed. It can use some work though such as finishing the ceiling and such. Actually I didnt use a program at all. I used good ol paper and pencil. I used 2 pieces of graph paper and a scale ruler. I used measurements I recorded on paper and applied them to my scale drawing. Then I scanned it onto my computer and used the paint program to highlight my lines and write the lengths down. Hope that helps.


Well yesterday the WN lost a costomer. Besse Forest Products in Rice Lake. This plant was dormant with rail service for a while now, and they have just canceled all rail shipments. The WN crew went up there yesterday to pick up the BFP log racks to put them on the leasing market.


None the less sand operations are going to be in full swing soon. New Auburn is using old 3 and 4 bay hoppers for sand service, while EOG is using all 2 bays. Red Cloud sand operation which is located on the Norma "Cornell" wye has been using 2,3 and 4 bays. Oh and speaking of EOG there are 8 tracks, not 6 like I had mentioned earlier. Im hoping to get out there tomorrow and take some pictures.

Enjoy,
Jordan
---
Reply author: nhguy
Replied on: 10/21/2011 4:46:34 PM
Message:
Thanks for the update on the WN. The photos of both the prototype and the layout space are welcome information on how on are going to accomplish this railroad in scale.

Two places on the layout room caught my attention. That 3 foot bump out in the main room could be a nice place for a wye, a stub end industry or car storage. I imagine that that used to be a coal dump/bunker or small vertical oil storage tank for furnace fuel.

The storage room could be a crew lounge or a dispatchers office. How opposed are you to taking out or going through walls? Obviously that big stone wall isn't going anywhere. How much room is in between the stairs and the chimney? Is that how you get to the other storage room? Is that 8 foot wall behind the post to the right of the stairs stone and a supporting wall too? If not then you could easily make the post disappear into the wall by moving the 8 foot wall down (unless it's supporting) and making the storage area about a foot bigger.

A friend of mine is making use of the space around the furnace by putting up studs and attaching cross pieces in a cantilever type support for his main line. Of course you can include the chimney that way if you wanted to make use of that space.

What are your thoughts about moving the access to the washer/dryer through the storage room side so you can use the space near the furnace/chimney for tracks? You can put up a vertical half wall enclosing the post(I assume its a lolly column) and create a doorway there at the 4' area between the post and the wall. You could use 32 inches for the door/isle way and about of foot or so for layout tracks and an industry or yard. Just some thoughts. I had rooms in my basement where I removed walls and went through them to separate my layout up some. You can do the same if your not opposed to moving and removing walls.

Bill


---
Reply author: Jordan114
Replied on: 10/24/2011 10:00:50 PM
Message:
Bill, I do not mind taking down walls or going through them. Actually that 8'9" (On the scale drawing I forgot the 9") is the only wall in the entire layout space that can be breached. Everything else is a foot and half thick slabs of rock. Here is a little story about the house. Back in the day when my grandpa and grandma came to the country land of Wisconsin cleared the land and built the house and the barn. The house was built from rocks found out in the corn fields!! In 1985 after my grandpa died of a heart attack (I never got to meet him
) my dad bought the house from my grandma. And there he and my mom lived until 97. In 97 my dad bought the farm across the road from a neighbor and put the "rock house" up for rent, only to friends and family. Now currently my grandma (my moms mother) resides there. Next year when I turn 18 I plan on moving over there. And no Im not kicking my grandma out! She is planning on moving to apartment building in Chippewa Falls. But that is why I am planning the layout in this houses' basement. Because I will be the future owner (renter). So until then Im not going to bust through walls and move her washer and dryer. But I really like your ideas Bill and will incorporate them into the design. Ill see if I can get over there on Wednesday and get pictures of that part of the basement.


Today I grabbed an actual camera headed to Chippewa Falls to take good quality photos of the WN and its customers. I was thrilled when I caught the Twins working the Pliant spur and making up its train to head north.

The nose of 1500 coming from behind the plant heading for the main.



The Twins about to cross the street. The blared the horn a few times!! Pretty awesome!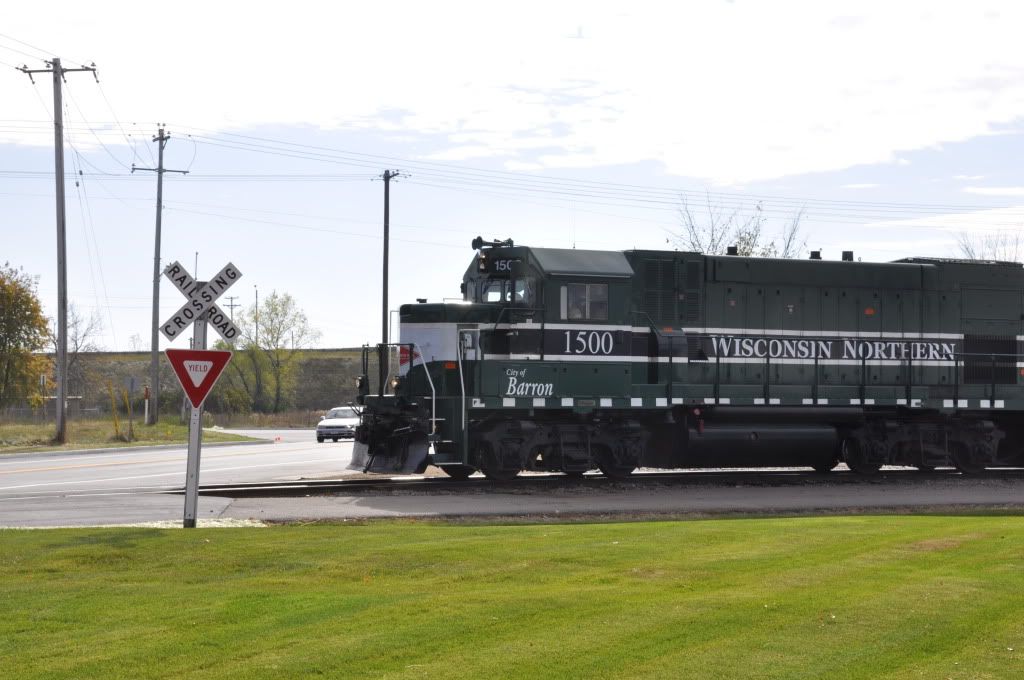 And the signature Chippewa Falls water tower in the background. The WN really keeps there units clean.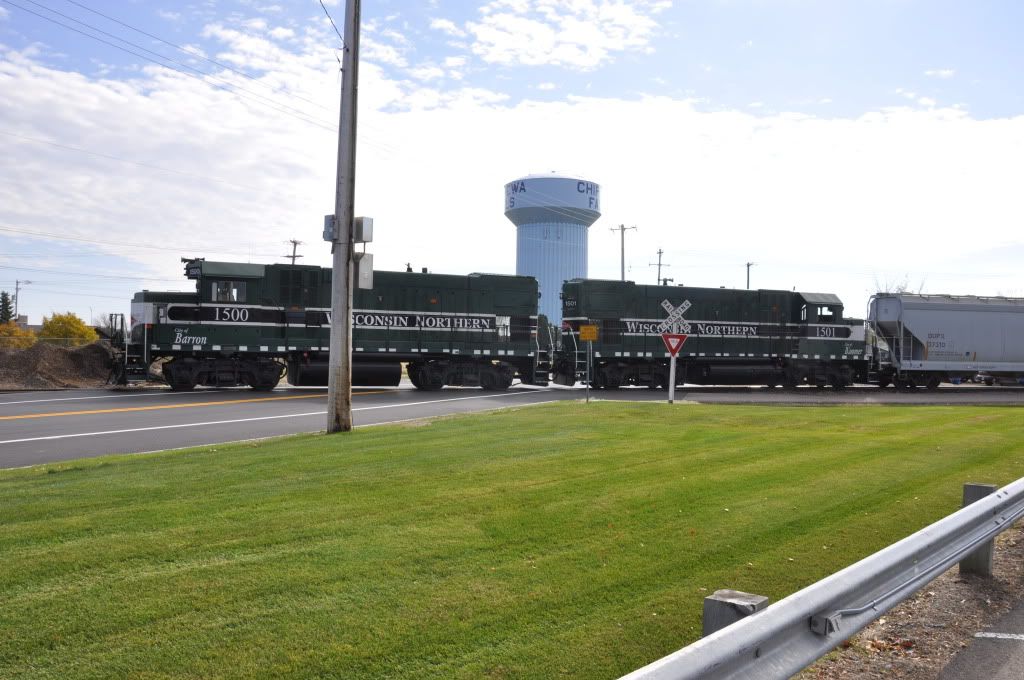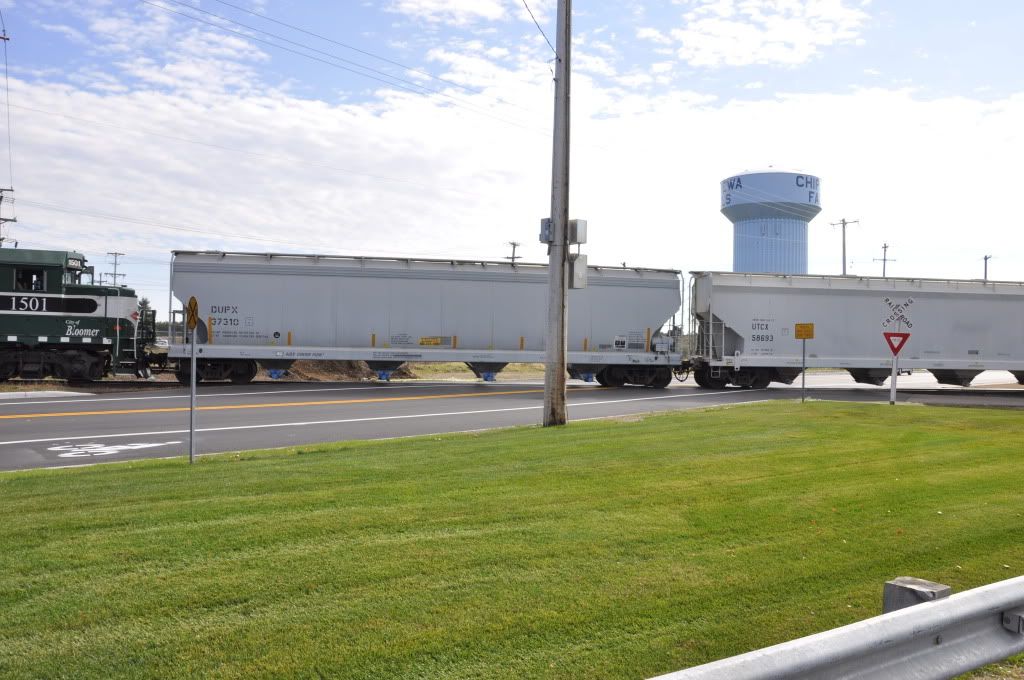 The train entering the main. You can see the switch stand just behind the lead locos first truck.



WN crewman waiting for his hopper.



And he found it.



That is what I could get for the time I had. Then I headed down the road just a ways to the EOG Sand Plant.



Just about done with the loading building.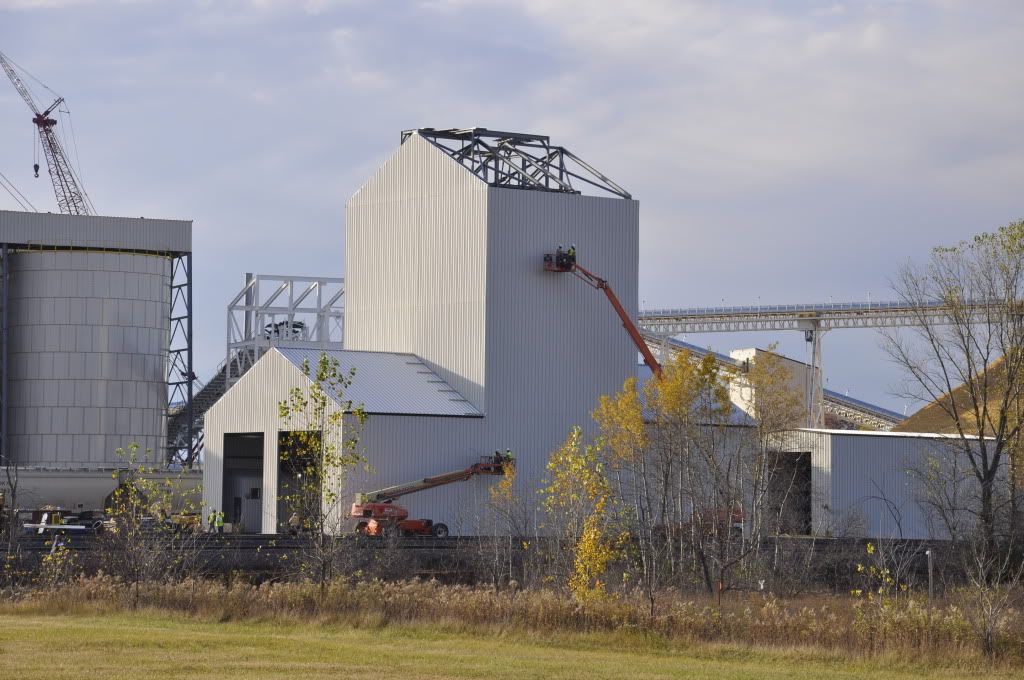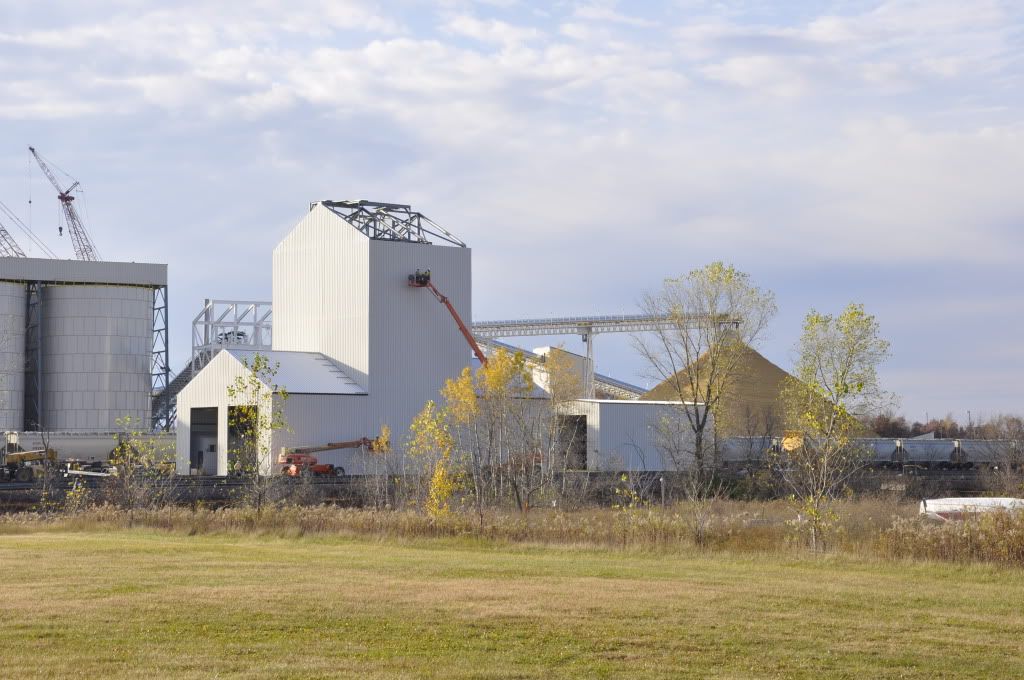 Now this photo is what really excited me!! I was guessing that the plant was going to also receive "raw" sand from other locations via rail because they had a small shed like building over 1 track that had no direct explanation as to what it was going to be used for. And today I saw a conveyor from that shed up to the primary sand storage conveyor and silos!!



The building in the middle of the photo is where the sand will be unloaded from hoppers (covered or open has yet to be discovered) And another thing I want to point out is the conveyor that is in front of the storage silos heading over the tracks towards the hopper loading building. Once this is complete they are 1 important step closer to operation!



The piles of sand waiting to be processed.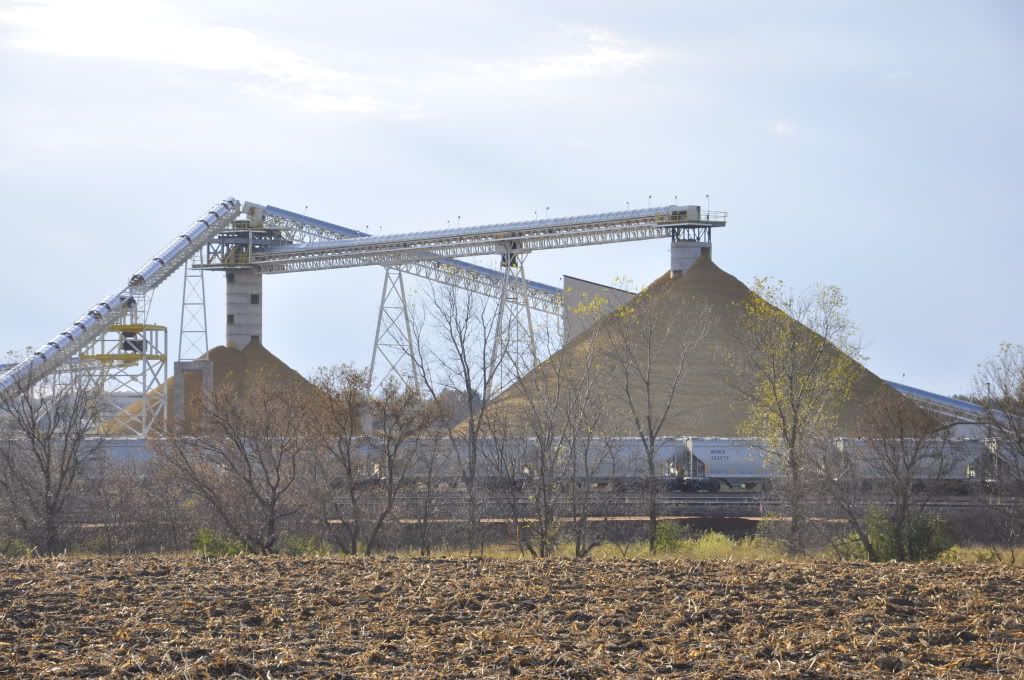 And just another look of the entire plant.



Enjoy everyone!

Jordan
---
Reply author: Ollie
Replied on: 10/26/2011 02:46:08 AM
Message:
Hmmm... I guess I have to have a second look on those Genesis GP15.s....
---
Reply author: Jordan114
Replied on: 10/27/2011 12:21:28 AM
Message:
Ollie if you have any questions as to the WN operations just let me know. I know Barry will chime in as well!

Jordan
---
Reply author: BOK
Replied on: 10/31/2011 12:00:38 AM
Message:
Hi Jordan:

I have been pretty busy training railroaders and writing a new timetable for the Kansas & Oklahoma Railroad leaving little extra time to post. That said, please feel to post questions and I'll be happy to respond.

It looks like you have a great space to build a layout and I admire your self discipline to wait until your Grandmother has re-located from the house to keep from disturbing her with layout construction. This "delay" will give you plenty of time to plan your layout, gather materials and maybe even build some bench work off site to aid in construction when the house is available.

With that in mind, why not build one or two modules of say, Bloomer with PMI Steel, Waste Recyclers, Bloomer Plastics, a mythical warehouse for Badger Recovery (at one time they had planned on building a new structure in the industrial park, I believe) and finally the fertilizer distributor south of town?
Put the siding back in service for a runaround track and you have a pretty interesting ISL (Industrial Switching Layout) which is based on the prototype. Add a few staging tracks at one end or the other of the layout and you're in operation with a variety of cars: fertz. hoppers, plastic resin hoppers, tank cars,
steel gons and a few boxcars. Add a truck/forklift dock for trans-loading potatoes into reefers and you have a very busy but realistic layout. As far as track you would only need 6-10 turnouts and 6-10 sections of
flex track. A layout this size would not be over-whelming but would provide a place to build some structures, scenery, lay track and begin operation. An ISL module like this could be very satisfying.

Just a suggestion.

Barry
---
Reply author: Jordan114
Replied on: 10/31/2011 4:30:02 PM
Message:
I understand you being busy Barry, no worries.

Thank you for the kind words as well. I figured that since she will only be there for another 6 months at the most, I wont make it hard for her to get in and around the layout.

And your idea of building a small module layout is GREAT!! I actually never even thought of doing that, and the description you gave is quite intriguing. This will be good for me. While I wait (patiently) for my grandma to move out, I can work on building up my modeling skills such as scenery and structure building. And keeping my enthusiasm high with operations!

I actually had another great idea for this project when you mentioned the Badger Recovery warehouse. I mentioned earlier in this thread about a new sand plant "planned" for north of Bloomer, about a mile or 2 past Bloomer Plastics. I could simply imagineer this plant already there and use one of the New Auburn plants. So when I build my layout layout I can simply move this plant to the modeled town of New Auburn and it will be right at home.
This will allow me to get started modeling my sand laden hoppers and run a dedicated sand train over the module. And I could have one of the SW1500s stationed at the plant for hopper loading/switching. Boy this is getting interesting in a hurry!

Thanks for the suggestion Barry!! I think Im gonna get out some pieces of paper and get track planning!

Jordan
---
Reply author: Narrow Rick
Replied on: 10/31/2011 5:20:45 PM
Message:
Jordan,

Do you have any plans of modeling the Leinenkugel's Brewery in CF? Not sure who serves the spur but I thought I saw aome cars spotted there once. They even make cars in HO prepainted for the brewery.
---
Reply author: Jordan114
Replied on: 10/31/2011 5:53:51 PM
Message:
Rick,

The brewery is in the middle of down town Chippewa Falls and is served by trucks only. I do not believe it has ever been served by rail.

Hope this helps.

Jordan
---
Reply author: BOK
Replied on: 11/02/2011 4:27:47 PM
Message:
It seems that no matter how far I travel I can't get away from the WN/PGR.

I am leaving on friday to drive from Wichita, KS up the Minot, ND area where I will be conducting training classes for new conductors/engineers at one of our oil transload sites. We load oil trains out of the Balken oil field and send it down to Oklahoma via BNSF where it is given back to another of our railroads for delivery to the pipelines and furthance to refineries in Kansas, Oklahoma and Texas. Up to this point all that has been handled is oil. Now we are recieving frac sand to transload to trucks for the oil fields which originates in...you guessed it Chippewa Falls, WI. loaded by the WN for furthance by the UP to Minneapolis for BNSF movement beyond. It's a small world when it comes to railroading.

Barry
---
Reply author: Jordan114
Replied on: 11/02/2011 10:46:06 PM
Message:
Sorry you cant get away Barry.
Small world indeed. Well the EOG sand plant is only days away from beginning operation and shipping sand towards you. The WN crew was switching some hoppers in Norma this afternoon. And there is some major remodeling going on around the old Cornell Wye. It almost looks like they are gonna connect the wye again and put tracks across HWY 178 again and on the old roadbed of the Cornell Line. Maybe new business or car storage. We'll see! Exciting times on the Wisconsin Northern!!

Jordan
---
Reply author: BOK
Replied on: 11/02/2011 11:02:12 PM
Message:
Yes, Jordan exciting times indeed.

According to a friend at PGR there are many new business possibilities and the UP is instituting new trains for the sand customers. I am sure it will be interesting to watch them grow.

Good Luck

Barry
---
Reply author: Jordan114
Replied on: 11/07/2011 8:38:36 PM
Message:
Here is a Wisconsin Northern update. In the local paper there was an article about the frac sand industry in this area and a few words from UP personnel. The frac sand part is just same ol, talking about the sand industry.

"Our Customers are saying to expect an increase in loads of Frac Sand," said Mark Davis, director of corporate relations with media for Union Pacific
Railroad's northern region, "and we are making plans to meet their transportation needs."

That means that the WN's UP leased trackage is going to be getting some upgrades!! Faster speeds are just ahead! Way to go WN for holding in there!


Barry got some questions again.
When the WN started up it leased an LLPX GP38-2 and two Iowa Northern Railway GP38-2s, correct? How come the WN didnt buy GP38-2s instead of the GP15-1s? Did they not need that much power?

Thanks!

Jordan
---
Reply author: BOK
Replied on: 11/07/2011 10:28:50 PM
Message:
Hi Jordan:

When we began operations on the WN there was no thought of moving frac sand because back then the ability to drill for oil other than vertically did not exist...and hence no need for the frac sand. Additionally, the beginnning traffic base for the WN was pretty small and it looked like a pair of GP-15s (which also happened to be cheap and available which GP-38s weren't at that time)would handle business nicely. Also, the young man who made the arrangements to purchase them, really had no idea what he was doing since he had never railroaded in his life and made the decision to buy engines with minimal horsepower.

Because the GP-15s were ordered too late for startup (did they have to be painted in that expensive scheme which delayed their arrival?...no),Iowa Northern GP-38 units, plus the orange (former CSXT MOW unit)were leased until the GP-15s showed up. A week or two after
start up, it was obvious that three units weren't required and we basically stored the LPPX unit (which was a dog) until it went off lease.

Interesting you should bring this up, as just before I left for Minot, I ran across pictures I took during the first weeks of start up including the lesased units. I don't have access to them now but I'll try to scan and post them when I return home in a few weeks.

Barry
---
Reply author: Jordan114
Replied on: 11/09/2011 3:35:27 PM
Message:
Did you like the GP38s more than the 15s? It makes you wonder if the WN will need any bigger power for the sand trains between New Auburn and Norma. When they were still loading the thrall gons, they always had 3 UP SD70s on the front end of 100 cars. Right now they are pulling about 30 3bay covered hoppers with the Geeps. When that second plant opens I'm sure these trains will be longer or have to make a few trips. I guess we'll find out. :)

Jordan

---
Reply author: Ollie
Replied on: 11/16/2011 06:24:22 AM
Message:
I guess the idea of having the units hauling more trips will make the railroad more interesting to follow. I live by a railroad which has a very interesting daily freight train running on odd hours any time of the day, it has usually 3 European version of covered wagons mued together, each of them in different paint. During the coldest days in the winter they do put up quite a show, even with the northbound empties due the frigion from the cold weather. They haul peat in 20ft container loaded on 60ft cars for the powerplants south. The problem is that it is basicly the only train that runs on the line this time of year making the line look very vacated. During the summers they occationally hauls unit timber trains.

Few photos here:
http://olaviahokas.com/trainstuff/r5/tmy1157-tmx1016-tmx1014a.jpg

http://olaviahokas.com/trainstuff/r4/tmx1014-tmy1132d.jpg

http://olaviahokas.com/trainstuff/r2/tmy1157-tmx1013.jpg

http://olaviahokas.com/trainstuff/r1/gn1.jpg
---
Reply author: Jpf94
Replied on: 11/18/2011 10:15:55 PM
Message:
The GP-15's are on long term lease, that is another 3 years to run. The GP-38 when the WN started were over $140 per day, the GP-15's are less then that. The Gp-15's were also more readily available, and could handle the traffic that the WN was forecast to handle at that time. It is a safe statement that if the UP had known about the sand, the WN would not exist.

Additional units have been acquired by PGR in Minnesota, a pair of GP-38 rebuilds, one a former SP GP-38-2 and the other a GP-35 rebuild. Those will work our Cannon Falls line.

Given the work that is necessary to properly acquire new locomotives and the forecasts we have seen it is unlikely to me that the WN will acquire anymore SW/MP units and that GP family units will be acquired. Six axle power is NOT on the horizon to my knowledge, we learned from the beating the track took with the UP run through units.
---
Reply author: Jpf94
Replied on: 11/18/2011 10:22:03 PM
Message:

Regarding the dairy... I was trying to think of something plausible to bring this dairy back to life and I think I may have something. Perhaps in 1986 when Associated Milk Producers (AMPI) purchases Falls Dairy Company in Jim Falls, Wisconsin they also looked at the potential of purchasing the dairy in Bloomer. AMPI was willing to put forth the funds to expand and upgrade this facility to government standards. One of these upgrades (maybe it already was using this method) being the conversion to coal burning for power of the plant. To this day the Jim Falls AMPI Dairy burns coal (which is shiped in by truck) for power because it is cheaper than natural gas. So it would be plausible (to me anyway) that this facility was equipped to burn coal for power as well. The use of coal gave me another idea, the railroad can supply it. Hoppers of coal could be spotted over an unloading pit, coal dumped onto a conveyor and put in a pile. An underground conveyor feeds the dairy with coal from the pile. Then it struck me that the AMPI in Jim Falls could use this coal as well. An end loader could scoop up coal from the pile and fill trucks that head to Jim Falls. This would give me an excuse to have a few more hoppers of coal spotted at the conveyor. Outbound cheese, butter and dried milk are shipped in reefers destined for distribution warehouses.


****The vasy majority of Dairy goods are shipped as dried product. There are a number of large plants in California that produce dried milk and cheese product that is shipped in standard boxcars, good old 50' 70 ton cars,
this would be the most likely traffic out of the
AMPI facility. The finished cheese is consumption timeline sensitive and therefore is most likely locally produced and consumed from the dried product shipped by rail. PGR's MN operation is handling 4 to 8 cars of whey per week and we are a small destination for the origin point. AMPI could be a shipper of this whey product allowing you to use standard cars and avoid the reefers.

We would love to handle the coal, but I think going forward we will see more LPG inbound to fuel the sand and AMPI if it were to become active.
---
Reply author: Jordan114
Replied on: 11/19/2011 11:17:34 PM
Message:
Ollie thanks for the pics!! I like seeing how other railroads around the world do there work! On the Trainz Simulator I always liked the Settle & Carlisle route. The locos in your pic look very similar to the ones on the game.

Joe its nice to have you on the forum! And thanks for following my thread.


That's awesome to hear that PGR has got new power! Did they get the GP38's due to the traffic increase on the Cannon Falls line?

And when the WN acquires new GPs will they complement the GP15s or will they be given the boot?

Thanks!
Jordan
---
Reply author: Ollie
Replied on: 11/21/2011 03:07:59 AM
Message:
Well I thought it was nice to share as in operationwise railroads whereever they are seem to have pretty much similarities no matter and while rereading this thread that popped up in my mind. So keep posting as this thread is not interesting as progress on a layout but also discusses effectively how a railroad is operating. I guess loads of us modellers do not quite have that picture.

Ollie :)
---
Reply author: Jordan114
Replied on: 11/27/2011 09:34:49 AM
Message:
Thanks Ollie! I know there isnt any modeling on this thread yet but soon there will be. Track plans are gelling in my mind and figuring what will work and what wont. But I'm glad you are enjoying the operational stand point of this thread and the WN!


Well I have some good news! For a long time PGR has been trying to buy the track that the WN runs on from the UP and CN. I just heard that after resolving some questions with the state that the state of Wisconsin has been authorized to purchase the Cameron to Rice Lake and Cameron to Almena trackage from the UP and CN!! And PGR (Wisconsin Northern) remains the operator of this line. Now with PGR having more control of this track it can begin upgrades to the line.

On the Cameron to Almena trackage the WN only runs as far west as Barron because there is no trafic base in Almena. BUT there is talk of a new sand plant going to be built in Almena but the tracks are in need of major rehab. But now with control over this track, rehab is possible. Very exciting times in the WN!!

Im going to try getting out along the WN today and get some good pictures of other towns and industries the WN serves.

Jordan
---
Reply author: Jordan114
Replied on: 12/13/2011 9:22:47 PM
Message:
Hello everyone,

Sorry for the late reply, been really busy last couple weeks. Unfortunately I did not get any pictures of the WN like I said I was going to. Been helping a friend with remodeling.

But on 12/2/11 I attended my very first operation session!! Thanks to Jeff Kraker (Coaltrain), he signed me up for a session on Gary Freseman's Arcwood & Rice Creek Railroad. (His layout can be found in the May 1999 issue of Model Railroader.) The 4 hour round trip was worth it! When I got there I met Gary and the rest of the gang. Jeff was there to help me and we got the Spooner Job which is a branch job working 3 towns and a run across the main line. We were in our own little world. Working each town, figuring out switch moves in cramped spaces. We got so into it we didnt know we were 3 hours behind on the fast clock. LOL. Gary assured us that that was okay, after all it was my first time. After the op session Jeff, Gary and I talked for about 45 minutes about his layout and ideas for mine. I was telling Gary about the Wisconsin Northern and he perked right up when I told him that the WN runs over former CNW trackage since he is such a big fan of the North Western. In the end it was a great time! And Jeff suggested I get a few more op sessions under my belt to get a better idea of what I want to model and how. So we are going to attend a few more in the coming months.

Now to the real WN. Some exciting news! New locomotives are on the horizon! No clue as to what types but I know bigger road power will be greatly appreciated for the sand trains.

And two firsts for the WN occurred yesterday! First- Because the EOG Sand Plant has no more room to store hoppers (EOG is still not loading sand) the WN had to take a lot of 2 bays north to Rice Lake for storage until the plant starts loading. Now here is the first. The WN train was 104 cars long!!! WOW!!

Second- because of this long train, they needed both GP15s to pull the train. The problem, the WN crew had to do some switching in Bloomer and Chetek on the way to Rice Lake. All the industries that needed switching are facing point spurs. So the crew had to put a Geep on each end of the 104 car train. The 1501 on the rear would do all the switching of industries. But since they needed both Geeps to be able to handle the train of this size they operated a true push/pull train! On other trains when the WN had to do this arrangement they let the Geep on the rear just idle in neutral and let the lead engine pull the entire train and this unit, until it was needed for switching spurs. With this train there was an engineer in each loco and I heard it was pretty neat listening to the two communicate with one another. Chris (who takes all the fantastic videos of the WN in action) got this train.

http://www.youtube.com/watch?v=gmS2aRba0iU

Please enjoy!!

Jordan
---
Reply author: Jordan114
Replied on: 12/20/2011 2:18:31 PM
Message:
Exciting news!! I heard from Joe Fehr who works for Progressive Rail that CEFX 6537, a GP38-2 is on its way to the Wisconsin Northern! CEFX is the same leasing company that they got one of there SW1500s from. Should be here after the new year. Ill get a pic as soon as it gets here.

Jordan
---
Reply author: Jordan114
Replied on: 12/21/2011 5:36:01 PM
Message:
Hello all,

I link was given for a picture of the new Geep. And it apparently is a GP38-3. Does the 3 mean that it was rebuilt or something?

Anyway here is a couple links.

This first one shows a picture of it in 2006. It had the same paint scheme as the SW1500 has on the WN currently.

Here is the GP.
http://www.rrpicturearchives.net/showPicture.aspx?id=550204

This is the SW1500 that works in New Auburn on the WN.
http://www.flickr.com/photos/oz_man3/6103335571/in/photostream/


The GP got a new paint job sometime in the last couple years. This is what the GP looks like now.
http://www.rrpicturearchives.net/showPicture.aspx?id=2629629


Definitely some exciting times on the WN! Guess Im gonna have to add a 38 to my model roster


Jordan
---
Reply author: IAISfan
Replied on: 12/21/2011 5:50:00 PM
Message:
Hi Jordan - Congrats on the new power! Always fun to have something new to model.

Yes, the "-3" signifies a rebuild. From the photos, it looks like an old GP35 that's been upgraded as a normally-aspirated (i.e. de-turboed) unit. I don't know my GP35 phases, but if you can start with a Kato model, you should end up with a great runner. I think the Athearns are more hit-and-miss from a performance standpoint.


---
Reply author: IAISfan
Replied on: 12/21/2011 8:25:54 PM
Message:
By the way Jordan, Atlas offers a GP38 dynamic brake hatch that should get you very close to the hatch on the 6537. See https://secure.atlasrr.com/mod1/printItem.asp?ic=896248&eq=&Tp= . You'd have to also order stacks, a fan, and other details, but Atlas has a minimum order of something like $9-$10 anyway.

I'm not sure what kind of DB fan that unit has. Hopefully you can get some overhead shots once it arrives. It almost looks like an SD24 radiator fan...which you could probably also get from Atlas.


---
Reply author: Jordan114
Replied on: 12/21/2011 8:29:16 PM
Message:
Thanks for the info/advice Joe! Im not (yet) very diesel knowledgeable, so I probably will be throwing questions out here and there on things I dont understand. So if I say anything wrong anybody feel free to correct me.

It is very exciting to watch this short line grow. A new siding is being built in Norma. The purpose is not yet known, but from other WN railfans they are guessing it is for building the long unit sand trains. I will know more in a matter of weeks.

Jordan
---
Reply author: Jordan114
Replied on: 12/21/2011 9:49:40 PM
Message:
Thanks for the tips Joe! There are 2 over passes in both Norma and Eagle Point (Just a few miles north of Norma) that I can get overhead pictures of 6537. I've never modified a model to look like a specific prototype so I'm a little nervous to do this.

Jordan
---
Reply author: IAISfan
Replied on: 12/21/2011 10:11:46 PM
Message:
It's not hard at all Jordan. Just like with most new things, it's just a matter of learning some skills that are each simple when viewed individually, and then just chaining them together. Just work slowly, and treat each component like its own model, taking the time to bring it up to the level where you'd be happy displaying it all by itself. I think the end result is really rewarding, having a unique model of a prototype I'm sure you'll come to know well.


---
Reply author: Jordan114
Replied on: 12/23/2011 10:36:47 PM
Message:
Well Ill have lots of practice. The modification of the GP35 will be added to my list with my 2 GP15s. I have to do a lot of front end work on the 15s to get the lights put in there prototypical location. Im gonna try getting a lot of pictures of all the diesels on the WN and let you look at them Joe and tell me what I need to do to each one. If thats okay with you that is.


Jordan
---
Reply author: Jordan114
Replied on: 12/30/2011 10:36:25 PM
Message:
More exciting news! The WN has leased yet another loco. CEFX 3812 is another GP38-3 (GP35 rebuild) Very catchy paint scheme too. This unit is in Chicago and on its way to the WN.

Here is a link. Enjoy!http://www.rrpicturearchives.net/showPicture.aspx?id=661776

Jordan
---
Reply author: Coaltrain
Replied on: 12/31/2011 07:46:57 AM
Message:
the blue GP38-3 for sure was a 35 at one time, that red one looks like it was rebuilt from either a 38-2 or a 39-2. By looking at the dynamic brake blister it looks like it was a GP 39-2 at one time but it is missing the small oval window on the long hood. Because it was missing the oval window it thought it might have been a Gp39 but the two rear fans are too close together and the radiator is too short, both of which are clues to it being a dash 2 series.
---
Reply author: IAISfan
Replied on: 12/31/2011 09:31:33 AM
Message:
rrpicturearchives.net lists this unit as being built as Southern GP38 2739:




A number of Southern 38s had the high short hood later replaced (by the NS, I assume) with a factory EMD low nose kit. IAIS GP38 603, http://www.iaisrailfans.org/info/IAIS603 , is another example, starting life as Southern 2764.

At least some of the Southern's GP38s were the very early variant that had no paper air filter box from the factory (and thus had a longer dynamic brake blister), but later had an aftermarket PAF added, with the DB blister being cut shorter to accommodate it (again like IAIS 603 above). Jordan, you mentioned that you didn't have a lot of experience with locomotive modifications yet, so in case the terms I'm using are new to you, the paper air filter box is the angled protrusion on the roof of the 603 in the photo below, directly above the "I" in "Iowa". The dynamic brake (DB) blister is above the word "Interstate", and the DB fan is on the roof above that. The radiator fans are the two at the back of the roof, and the radiator grills are directly below those.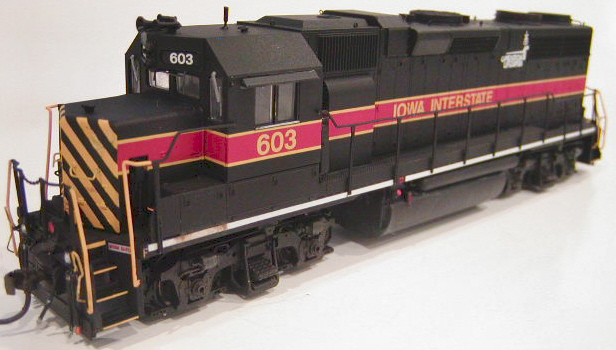 I'd agree that the radiator fans in the photo Jordan linked to above look to be close together, but the photo of 3812 below shows that the fans are spaced apart as we'd expect to see on a unit that started out as a GP38.




Jordan, you should have a fairly easy time modeling this one starting with an Atlas GP38 following the changes I outlined for my model of IAIS 603 at http://www.iaisrailfans.org/gallery/IAIS-603-GP38 , but make sure you either get the early version with the paper air filter and modified dynamic brake blister, or that you can order the replacement blister from Atlas. Their on-line store is down for a few days, so I'm not sure if that part is still available.

However, I know of someone who'll likely be selling an Atlas IAIS GP38 shell that has the appropriate components you'd want to start with, and you could mate that shell to the drive from an Atlas Trainman GP38-2, some of which I just saw on sale for $45 - just can't remember the name of the place. Please let me know if you're interested in the shell, though, and I can put you in touch with the owner.

By the way, regarding your earlier question Jordan, I'm happy to help give you some modeling guidance once you've got your photos. Rebuilds that started life as GP35s are new to me, but I'll do my best to help.


---
Reply author: Jordan114
Replied on: 12/31/2011 11:56:21 AM
Message:
Thanks Jeff and Joe. I was told it was a former 35 but thanks for clearing that up. Like I said I dont know much yet about diesels. Thanks for explaining some of the terms too.

Joe if you think that will be the better way to go with that GP38 shell I am interested in buying it. How much will he charge for it?

Thanks again!

Jordan
---
Reply author: Coaltrain
Replied on: 12/31/2011 5:06:42 PM
Message:
that is a much better angle and I now changed my mind and believe that it started out as a GP38 and was upgraded, which would be the reason for the lack of the oval window on the side door.
---
Reply author: DHM
Replied on: 12/31/2011 6:18:15 PM
Message:
At this point, even the 40-50 series GPs are approaching 30 years old; the 30 series are even older...which is enough time for overhauls, rebuilds, etc to obsure the lineage of any particular unit..one thing that doesnt change is the wheel base; the GP35s had a slightly shorter frame and wheelbase than the GP38-39-40, -2s variants, and 50-60 series.

I began my diesel kitbashing trying to do an ARR GP49 in the early 1980s...the GP49 was sort of a turbocharged 38-39 with GP50 upgrades...the ARR was the only one who had them, altho Katy had some GP39-2s in the same "shell". Nowdays it would be a matter of collecting the necessary aftermarket parts..doors, fans, etc and assembling a shell..when I did it it was alot of cut and glue and cobb together different shells...after various attempts, I ended up doing enough mods to a stock Athearn GP50 to look right, which worked...my models were for running at public shows, etc, so there wasnt alot of rivet and door counting and the GP50 got me close enough. I discovered later some pretty big differences..the ARR radically reworked the front steps when the mounted the snowplows, for instance...and I never noticed that and did not include that modification...oops

Today the GP49s are gone..some were sold to a leasing company, and 3, I believe went to Chile where they were retrucked and are now "SD-49s".. either meter gauge or 5 foot...part of the appeal of the EMD line was the relatively easy interchange of parts, upgrades, etc...

Sometimes..particularly when one is getting started, and anxious to start running trains, one can find an off the shelf model which can be re-painted and put in service and be close enough to the prototype that only a very close inspection would show thats its not right...kitbashing diesels can be a whole hobby unto itself...in fact several of the regular diesel kitbash authors in MR back in the 80s didnt have a layout. Granted it may be easier now rather than trying to narrow overly wide Athearn shells and section them to get the right door configuration , or close to it...but sometimes thats an area when a corner cut may be time well spent elsewhere...and you can always build, or buy the "right" model later on....

Don M.
Anchorage Ak
---
Reply author: Jordan114
Replied on: 01/01/2012 2:49:50 PM
Message:
Hey Don. Since the Wisconsin Northern only has 6 (so far) locomotives I'm willing to take the time to get these up to prototype specs. Since it will be awhile before I have a layout to work on, this will keep me busy and active getting needed parts and assembling everything.

I have heard here and there about Athearn and there locomotives poor performance. Is this true? Just a question I would like to clear up. I dont know if its true or not.

Jordan
---
Reply author: Geep Fan
Replied on: 01/01/2012 10:42:30 PM
Message:
Jordan, For many years the Blue Box kits served their purpose for many folks, everybody used Athearns either stock or rebuilt. With the advent of the pulse power on power packs that helped slow speed a lot. I had many on my first railroads and they worked pretty well... they were a good value and I made several top runners with North West Short Line re power kits. The Athearn RTR are better but just a notch above in my opinon.. frankly i liked the Blue Box railing system better than the newer plastic railings. But Athearns just don't stack up to an Atlas, a Kato or Walthers Proto 2000 units. Athearn's Genesis line is much better but they seem to have quality control issues from what i have seen on my GP15-1 and what I have read on forums. If you can work with any of the above 3 they will make for a nice running unit. For the money... you can't be an Atlas in my opinion.

Corey
---
Reply author: Coaltrain
Replied on: 01/02/2012 08:41:09 AM
Message:
the problem with using a blue box Athearn is that they were all dash 2s and it will take some work to back date it to a non-dash 2 locomotive, it can be done, I turned an Athearn blue box GP38-2 into a GP39.

Athearns can be made to run good, but it will take work. Many of the EMDs on Gary's layout are all Blue box Athearns with new motors and wheels.

The cost of Blue box Athearns make them look like a really good value, but by the time you change the motor, add nickle silver wheels, and update all the detail parts you are at the cost of an Atlas. However, some people really like turning a mid-level detailed locomotive into a contest model, that is the part of the hobby they really like, and if you look at the market for detail parts you can see that there are many people that do that.

Maybe you want to try and build up a blue box locomotive and see if you like it.
---
Reply author: Jordan114
Replied on: 01/02/2012 10:28:35 PM
Message:
Thanks for the advise Corey and Jeff. Since I am not familiar yet with big kitbashes and a lot of scratch building I dont think Im going to jump into that right now. But it does sound fun! Eventually I want to make each diesel on my layout as prototypical to the prototype as possible (tongue twister lol). For my GP38 rebuild unit I think im going to start with an atlas unit if I dont get that IAIS shell from Joes buddy. Im really looking forward to all these fun activities!


Thanks to a visit to The Diesel Shop on this forum I was able to confirm which phase the GP35 was. It was a GP35 1a1. Definition: - fishbelly frame, groups of three louvers on both battery box doors, seven latched engine doors, short inertial intake, flat dustbin hatch, flat under the front headlight (roads that used rotating lights had a bulge under the numberboard assembly) Type I radiators (the Cannon GP35 rad). So for this upcoming project I just bought a Kato GP35 1a off of ebay.

Here is a pick.



It should be here by the end of the week. Im pretty excited with everything that has been going on here in the last week or so!

Jordan
---
Reply author: Jordan114
Replied on: 01/08/2012 6:32:44 PM
Message:
Hello everybody. Because I have never kitbashed anything before I want to try something a little easier than a diesel for my first go at it. Jeff Kraker suggested starting with a freight car. So I did some looking around and found 4 possible candidates. An industry on the WN called Bell Pole near Barron, WI receives pole length logs to make utility poles. Bell leases 89' LTTX flatcars and BFPX Bulkhead flats. The LTTX cars turned into a future scratch building project but the BFPX Bulkhead flats seem like they might work. Bell leases 4 BFPX cars.

Here they are.

BFPX 1005
http://www.rrpicturearchives.net/pictures/27957/IMG_0260.JPG

BFPX 1113
http://www.rrpicturearchives.net/pictures/70317/1113-0%20Hayford%20Junction%20Chicago%20iL.JPG

BFPX 1120
http://www.rrpicturearchives.net/pictures/63292/RS3%20393.jpg

BFPX1121
http://www.rrpicturearchives.net/showPicture.aspx?id=1062500

I know BFPX 1005 is the only one that is different out of the 4. Does anybody know what HO Bulkhead flats would make a good start for these kitbashes? Or any other suggestions.


The CEFX 6537 is on the WN now and is already being put to work. Chris got a video of it and CEFX 2630 in New Auburn, Wisconsin going to get 70 more sand hoppers from storage for the sand plant. CEFX 6537 has an awesome horn!

http://www.youtube.com/watch?v=QMYLX6_O2cI&feature=g-all-u&context=G22f91c1FAAAAAAAAAAA

Enjoy!

Jordan
---
Reply author: Ollie
Replied on: 01/13/2012 07:47:01 AM
Message:
I love those Gp35.s from Kato. With their smooth run and compact size they are among the perfect for a layout. Hope that Kato will one day update them to modern standards by smaller diameter stanschions and handrails and protoype specs like lights and stuff.

Those cares look interesting and with their blue color stands out in a consist too. Suprisingly they were all grafitti free too!

Cheers!
Ollie
---
Reply author: Jordan114
Replied on: 01/15/2012 01:01:35 AM
Message:
Hi Ollie,

I just got the Kato GP35 in the mail the other day! Haven't been able to run it yet but sounds like its a good runner. I also just received that GP38 shell that Joe Atkinson was talking about earlier in the thread. Its an Iowa Interstate unit but like Joe said will be a great start for the rebuild to make it the WN's CEFX 3812 GP38-3. Speaking of that I ordered an Atlas Trainman GP38-2 drive from Eastern Classics for this Geep.

For the BFPX Bulkhead flat project I ordered 3 Atlas 68' Bulkhead flats. 3 of the prototype flats are 70' in length but I consider this "good enough". The most notable modifications that need to be done to these cars are the bulkheads, the trucks need to be moved closer to the ends of each car and the need to build the wracks that run the length of the flat. Should be fun and I'm really looking forward to this project!

I have been thinking a lot about the layout too. I've known since I started my journey into the Wisconsin Northern that I would double deck the layout. And my goal was 2 towns per deck, each deck being right around the 110' area. After a week of calculating I found I can only fit 3 on 2 decks. Unfortunately the towns on the WN are LONG! Take Bloomer for example. Its first industry which is AgriTech is on a spur south of town. 2 miles farther up the line is Bloomer Plastics which is north of town. Now in between these 2 industries are 2 other industries and a 25 car storage siding. With compression I figure this town will be around the 40-45' mark on the layout and New Auburn will be around the 35'-40' area. That leaves 25'-30' between the towns which is fine with me because its longer than the average train length. Because Norma is very long with its UP interchange, industries and huge EOG Sand Plant I'm giving this a deck all to itself. Here is the dilemma I am facing. On the WN they run the Day Crew which works all non sand industries on the line. On my layout this would leave the crew 5 industries to switch, Pliant Plastics in Norma, AgriTech (seasonally), Waste Recyclers, PMI Steel and Bloomer Plastics in Bloomer. (There are 2 Sand Plants in New Auburn and no non sand facilities) This just doesnt seem like enough for this crew to do since it will be one of the two main trains on the layout. After a lot of head scratching I thought about the idea of a third deck. On this deck I could model the town of Chetek which has 3 non sand industries. Chetek Coop(seasonally), Badger State Recovery and ABC Truss. These industries would allow the Day Crew to switch out box cars and center beam flatcars. Plus the occasional hopper of fertilizer. This town would only take up about 25' of this third deck. So I got to thinking of adding the small town of Cameron on the other end of the deck. Here a new sand operation has opened up, except its not using covered hoppers. Because the use of a front end loader they use high side Thrall Gondolas and short side gondolas. And whats cool about these are unit trains that are brought up to Cameron using Union Pacific road power. These have been SD90s, SD70s and the occasional AC4400. So by modeling this town also I can run UP powered trains across the entire layout! If modeled the WN Day Crew would pass through Cameron into a small fiddle yard where cars would be exchanged for non modeled industries in the towns of Rice Lake and Barron.

And I thought about deck separation/height as well. If triple deck is employed a envision the layout like this.

Deck 1 would be 30" off the floor dedicated to Norma. This deck could easily be operated on by using a rolling chair.

Deck 2 would be 48" off the floor and have the towns of Bloomer and New Auburn. Can be operated standing up.

Deck 3 would be 66" off the floor and host the towns of Chetek and Cameron. This height is just below eye level for me and can be operated on using a stool or possibly a 10" "step" reducing the "operating height" to just 56" (the step could be either the entire length of the layout or just in the towns)

Each deck has a separation of 18". And since Im going to keep most of the benchwork narrow this should not be a problem regarding reach in concerns.

I really like this idea of a triple deck and expanding operations. But I would like to hear anybody's opinions on this matter if they would like to.

Well I believe I babbled on long enough for one night.


Jordan
---
Reply author: IAISfan
Replied on: 01/15/2012 07:56:11 AM
Message:
Hi Jordan,
I don't know your prototype well enough to comment in detail, and bear in mind that I'm more of a "keep it simple" kind of guy, but to me, this sounds like a big undertaking for what I believe you said is your first layout. Personally I think you might be surprised at how little layout you need in order to keep one or two crews busy. Also, going with two-man crews, if you can find enough operators in your area, really helps to prototypically slow the work down and thereby "grow" the layout, as does enforcing prototype practices as they work.

Steps such as operating at realistically slow speeds and stopping to "let your conductor off" to line a switch, waiting while he walks the train, laces air hoses, sets brakes, lines couplers, etc. all add realistic pauses to a session. In my experience, people don't seem to get bored with those things, and they seem to enjoy the further immersion in the prototype that they offer. There's a thread on the Yahoo Proto-Layouts list right now (which I'd highly recommend for any prototype or proto-freelance modeler building a layout) on this very topic.

My layout is generally operated with only two crews:
1) A road crew that brings the westbound road train across the layout and then works a local that essentially serves only two big elevators, each with only a single-track spur. There are also four other smaller industries, but three haven't been worked in my first 10 operating sessions, and the fourth has only been worked 3-4 times. This crew also runs 1-2 UP detours over the layout per session if they run out of work, but so far, they've only been able to run both detours in one session. The other nine sessions they either haven't had time to run them at all or have only run one. I think your UP sand trains you described could perform a similar role on your layout, providing more work to fill out a session for a crew.

2) The second crew works Bluffs yard, breaking down the westbound that the first crew brought in, working the UP and BNSF interchanges and four local industries (only two of which see action in most sessions), and making up that night's eastbound.

With just those two engineer/conductor pairs working at a prototypical pace, every one of my operating sessions has run at least 2-1/2 hours, and some have gone past 3. If I was starting over again in my current space, I'd strongly consider making my layout about half its current size and just operating with one crew. You don't need much layout at all for this hobby to be really entertaining. I'm hoping that Barry will chime in again here and offer his views of prototype operation that he did on the Proto-Layouts list. Lots of great, fun stuff that most modelers don't consider. In my view, many of us turn op sessions into a race, or give crews so much to do that they can't take the time to do it realistically.


---
Reply author: Jordan114
Replied on: 01/16/2012 9:34:45 PM
Message:
I can see where your coming from Joe. I should have brought into consideration the Op Session that I attended with Jeff Kraker. We spent a LONG time in one town just switching 4 industries and a storage track. Which is what Bloomer is gonna be like. When the WN works Bloomer they swap loads for empties and leave all the empties on the Bloomer siding for pickup on the return trip back south. Plus the trackage from Norma to Bloomer is 20mph and Bloomer to Barron/Rice Lake is 10mph at best. This should extend each run greatly! Maybe just these 3 towns will be enough for a few hours of fun!


For sure the main jobs on the layout will be the UP Local, the WN Day Crew(Heads out early in the morning to work all non sand industries and returns to Norma in afternoon), the WN Night Crew(Heads north in the afternoon with empty hoppers for the New Auburn sand plant and returns to Norma in the evening/night). Those are gonna be the regular jobs for sure. 2 more jobs can be added as well. A crew to to "load" hoppers of sand at New Auburn and at EOG in Norma. Since the sand operation along the line is still changing Im not planning any real permanent sand jobs yet.

Jordan
---
Reply author: Jordan114
Replied on: 01/21/2012 12:00:55 AM
Message:
Here is a little update on the actual Wisconsin Northern RR. I think I brought up earlier on this thread that the WN had a new siding put in on the east side of the main across from the EOG's Sand Plant Yard. I was just informed today that that siding is the beginning of the Norma Transload Center. Off of this siding several spurs will branch out and not serve any one specific customer but a number of sand, chemical and lumber customers. Norma is gonna be a fun town to switch on my layout!!

Jordan
---
Reply author: PEIR
Replied on: 01/31/2012 10:13:51 PM
Message:
I have read the whole thread over the past day and a half and I think you have a very interesting line to model Jordan. You can never have enough pictures and having Barry on board is a tremendous asset that many of wish we had for our own lines. You have great room to get your layout up and running and a relatively small roster to build to give it that down home feel and I am looking forward to seeing your progress in the months to come.
---
Reply author: Ollie
Replied on: 02/03/2012 09:11:07 AM
Message:
I agree.... The most of the layouts and collections incldung mine are filled with locmotives and cars and heading to places without any purpose. Some guys have operation allright but usually in temrs like having a rather modest freight car with impresive amount of power and the 15 car freight with four big diesels are entering the town while the caboose or the last car is still not clear from last town some 15 miles apart... What I understand this will be a rather big layout with few smaller end diesels. I guess when the layout is finished enough to operate trains the layout will be something of a school bench for most of us here....

Speaking of value, I picked up an undec Atlas SD35 on Ebay for less than 40 bucks. I have had an intention to turn them in to Chessie paint but I awish not to do the paint job. At Atlas website I ordered a pair of decorated body shells and without much hustle I will have one of the 5 ex WM units run and ready for a coalbranch power. The other shell will be a starting point for a another SD35 project with C&O details lashed to it... The shells went for 35 bucks each...

---
Reply author: Jordan114
Replied on: 02/05/2012 11:41:20 PM
Message:
Thanks for the kind words Stephen and Ollie!

Your right Stephan, its great having Barry along for the ride. Although he hasn't been posting lately. I believe he is busy training railroad employees. Im glad you are looking forward to my progress. I'll try to keep it coming!
Thanks for following!

Ollie one of my goals is to have the distance between towns at least a train and a half long. I dislike the thought of my trains being in 2 towns at once, mainly because of the generous layout space I have. And I'm glad you have so much faith in me and the layout. I hope that many will learn from my experiences on this layout, especially my mistakes or things I would have done different.

And good to hear about your good deals on the SD35's! I did something similar for what will be WN's CEFX 3812 a GP38-3. I bought a GP38 shell from one of Joe Atkinson's friends and bought a Atlas GP38-2 drive. In all it cost $70. So great job on the find! It's nice getting good quality models for less money! Im gonna need all that saved money to buy my never ending covered hopper fleet.


Im working on a track plan. I will post it on here once finished to get any ideas of what I could/should change.

Jordan
---
Reply author: BOK
Replied on: 02/08/2012 8:43:22 PM
Message:
Hi Jordan:

Yes, I have been very busy with both new conductor classes, road trips, and crew testing.

You asked how we used to switch Bloomer. This is how we did it.
Since we didn't have a run around track until we reached New Auburn, we had to depart Norma with a unit (both 1500 and 15010 on each end. If we had cars for Agritech,the fertz. plant south of town, we would pull up to clear the spur of the car(s) to set out and then use the rear unit to pull the cars off the train and spot them up. If I recall correctly, the spur held 3 hoppers and rolled to the north.
We did the same move at PMI Steel using the rear unit to do the switching and spotting 2 cars inside the building which the company then would move outside when mty.
When switching Bloomer Plastics we used the head unit to dig out cars for them from
the north end of the downtown siding where they were stored and which was OOS (out of service) on the south end. After retrieving the necessary cars from the storage siding we hauled them up the hill to the plant and because it was a trailing point switch going north, like the storage track switch (and unlike the fertz. plant and PMI switches which were facing point switches going north) we used the head locomotive to make the switching moves leaving the rest of the train and rear unit on the main. As I re-call the Bloomer plastics spur held 5 cars on spot and 2 hanging on the lead.
After all the switching in town was completed, we would leave the mtys for return to Norma
at both Agritech and PMI where could easily grab them on the return trip the next day but would take the mtys from Bloomer Plastics with us and run around them at Barron to have them behind both units on the return to Norma.
It should be noted that during these switching moves the engineer and conductor alternated positions as both were Engineer Qualified and they did what was necessary to be efficient and get the job done unlike the big Class 1 carriers which because of union agreements don't allow a lot of cross craft work to be performed by crew members.

In addition this would be different today with WN opening up the south end of the downtown siding which would allow run around moves, a train could operate with both units on the head end to Bloomer and make all moves either facing point or trailing point without having to separate the locomotives and return to Norma with both units pulling cars back.
With the addition of the chemical/oil recycler (figure a 2 car spot0 and the a "supposed" (it was at one time proposed to replace the Chetek facility) new boxcar facility( 2- 5 car spot) for Badger Resources a modeler could have a pretty neat little ISL (industrial switching layout) with only about six switches and off-scene,staging to represent Norm/UP interchange.. I would bet some of our overseas modelers who delight in these type of layouts would find this a suitable railroad to model with covered hoppers (both granular fertilizer and plastic resins),covered gons of steel, tank cars and boxcars. Throw in a pair of colorful WN GP-15s back to back and you're all set to operate on a simple,narrow, shelf layout.

Before all the frac sand business, I always said the WN would have made a perfect little shortline just operating from Norma to Bloomer (about 10 miles?)and return locating as much new business at or between those points so a crew could handle multiple spots/day and cut the expense of the additional track north of Bloomer which was in poor shape and didn't produce much revenue. My guess is that's why WN/PGR is building transload tracks down at Norma so they can localize their customer base and use one crew/power to handle both the sand plants and transload customers. Makes sense. .

There you go. There's a perfect little 18/24" X by 8/10/12' ISL. Get out the lumber and foam and start laying track.

Barry, soon to head out tonight to perform safety testing on railroad crews.
---
Reply author: Jordan114
Replied on: 02/09/2012 10:14:51 AM
Message:
Hi Barry,

Just want to let you know that's the exact kick in the butt I needed! I was having a hard time with my original track plan, because the WN is changing so much right now and I heard that the dust isn't going to be settling for a while. I didn't want to make a track plan for today's WN only to find out that tomorrow the WN has thousands of feet of new track and several new industries in place. I new Bloomer was going to be a fun/time consuming town to switch but now that you described in detail the operations that Bloomer can be a stand alone layout! I read your post last night and then slept on the idea. So starting today I am going to model JUST Bloomer as an ISL! This way I can get something going while the WN is still evolving. Plus this is my first layout so it's a good idea not to start something so big that there's no hope of finishing it or if I do finish it, I want to change everything afterwards. Ill save the "Wisconsin Northern RR 2.0" for the next layout after I have more experience and skills.

Im really excited for this, because I know that I can start right away! There will be some freelancing in this ISL of Bloomer but its prototypical.

First off, Badger State Recyclers was planning on moving there transload facility in Chetek to Bloomer which is prototypical.

Second, the sand plant that is going to be built in Bloomer. Since this facility is not yet built I can model one of the New Auburn sand plants and place it in Bloomer. The one I am choosing is compact and doesnt take up a lot of space. (Then when I build the future layout that has New Auburn in it, all I have to do is move the plant to its prototypical location) This will allow me to model a small part of the sand industry and have another switch job. (A switcher to load the hoppers)

So in a sense I am not really freelancing at all, Im modeling the future Bloomer on the Wisconsin Northern RR!

Now the third industry is where I deviated from Bloomers "future". There is a lumber business just north of Bloomer siding. It is not rail served BUT there is an OOS spur that runs alongside of it. So in part of this ISL I am going to rehab this track and add a lumber business to my layout. I think it would be cool to model some center beam and bulkhead flatcars and it will add more variety to my freight car consists.

Well Im off to the drawing table! If anbody has suggestions/thoughts they are more than welcome!

Jordan
---
Reply author: Jordan114
Replied on: 02/11/2012 10:09:32 PM
Message:
Well everyone here is a treat for all those following this thread! I finally have some pics of the WN in New Auburn! I went to a Model Train show in Rice Lake today and on the way home I thought I would grab some pics of the WN.

On my way north to Rice Lake in the afternoon the New Auburn Siding only had a few hoppers left in it that needed loading. On my way home going back south I was delighted to see the headlights of 2 locomotives at the end of the New Auburn Siding.

Here are pics of WN 1500 and 1501. They just brought a long string of hoppers to replenish the storage siding.




Here you can see just how long this train of hoppers really is!



Here are WN's newly acquired GP38-3s. These units were sitting north of the GP15s with a few hoppers that needed to be moved out of the way for the hopper train. Surprisingly it appears the high horsepower units have been neglected to switching hoppers in New Auburn and leaving the lower horsepower GP15s as the road engines.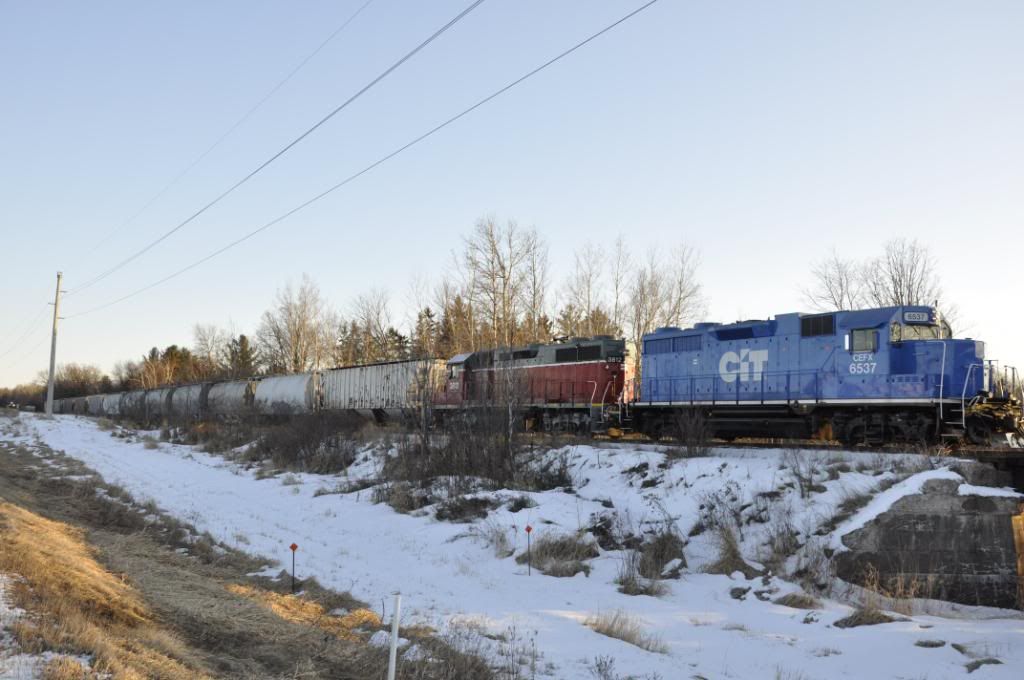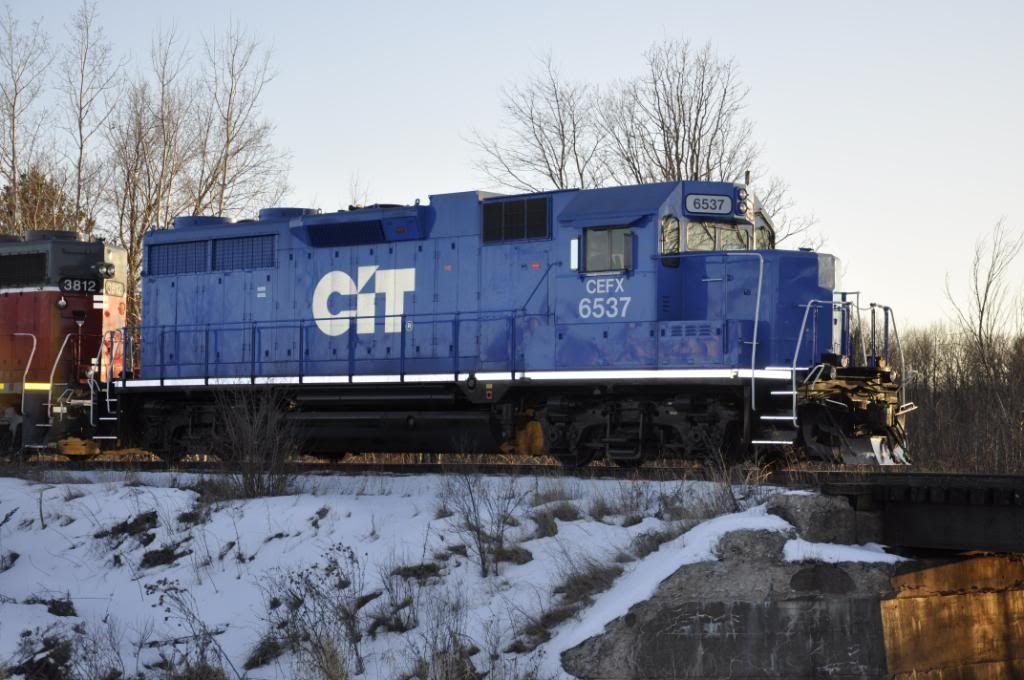 Now for some industries! This is New Auburn's Superior Silica Sands Plant on the north of town. This is the plant that uses the long siding for hopper load/empty storage. The loading track actually balloons off the siding.

You can just barely see the SW1500 on the pulling empty hoppers under the loading chute. The hoppers to the right in this photo are loaded and will be brought back to Norma by the GP15s.



More of the loaded hoppers.



And in this one in the far distance you can see the other sand plant being constructed about a half mile south from where I am standing.



But before we get to that here is pic of the Superior Silica Sands Plant. Steam really stands out in 14 degree weather!!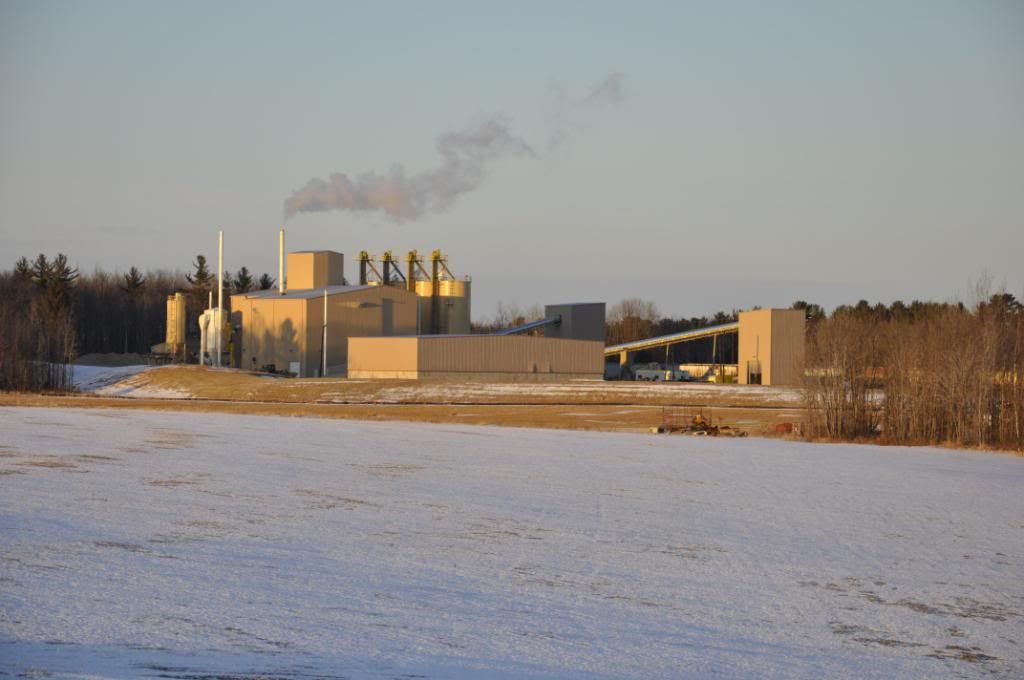 This is the newer plant under construction. You can see the newly installed siding tracks for this plant easily. They dip down dramatically after the turnout. (This is the plant I want to model on my industrial switching layout)



This is the conveyor that will be used to load covered hoppers.




Hope you enjoyed this view of one of WN's important towns!

Jordan
---
Reply author: Ollie
Replied on: 02/14/2012 6:11:08 PM
Message:
Great photos and I see that this thing called winter is over there roo! As a news break I managed to size another undecorated SD35 to same price as the first unit.... Now I am waiting for those decorated bodies to arrive... All for less than a stock price for one unit. :)
---
Reply author: Ollie
Replied on: 02/15/2012 03:07:53 AM
Message:
They did a cool job on the old GP35 there as first I saw it as a regular GP38 then I saw the freame. I guess they are working as switchers as they may be unsure of the condition of the units and perhaps it is some kind of learning period to keep them running. and the smaller GP15.s are in good shape. I am not a railroader so I am just guessing, but they do add a great variation to your roster! Love those hopper cars, bet it must have been a sight as they were rocking along the tracks.

Best regards!
Ollie
---
Reply author: Jordan114
Replied on: 04/10/2012 3:59:41 PM
Message:
Hello everyone! Its been a long time since I last posted. Ive been really busy lately and unfortunately no time for trains. But I do have an update on my diesel roster. Here is a pick.




From left to right. (1)This unit has a GP38 shell and will be riding on an Atlas drive. This unit will be CEFX 3812, one of the GP38-3's. (2)The second unit is a Kato GP35 that will become CEFX 6537, the other GP38-3. (3)This Athearn GN SW1500 will become CEFX 1559. (4,5) The last 2 will become WN's 1500 and 1501, the GP15-1s.

There is a lot of work to be done on these units to get them up to specs. It will be fun though! Im holding off on purchasing more diesels. The WN has 2 more SWs and another 2 on the way sometime this year. (making 5 total SW1500s)

Im still working on a track plan. Taking longer than I'd like but Im gonna keep at it.

Thats all for now!

Jordan
---
Reply author: IAISfan
Replied on: 04/10/2012 4:03:35 PM
Message:
Looking good Jordan. I think you'll have a lot of fun modeling those, especially given your familiarity with the prototype units.

---
Reply author: Coaltrain
Replied on: 04/12/2012 07:32:22 AM
Message:
good to hear from you again. make sure to post your track plan ideas so we can see how it develops
---
Reply author: Ollie
Replied on: 04/20/2012 03:59:53 AM
Message:
I think you will have fun modelling the roster in allmost every aspects. It is allways nice to model something you see live and allmost daily. I guess it is why I on the side collect models of Scandinavian models. The other great thing is that you are able to model THE entire roster and really make the models unique just like the prototype. They will really st the locationa nd not be generic like any big road unit, like lets say a CSX gp40-2 6365 (yes I have one too) which could be found just anywhere. Even if you decide to using kits instead of kitbashing or scratch building all the structures you will end up with a very convinsing layout. :)

Keep posting!
Ollie
---
Reply author: Jordan114
Replied on: 04/22/2012 09:37:06 AM
Message:
Thanks Joe, Jeff and Ollie! I agree, the WN diesel roster is going to be a fun and rewarding project. I can't wait to get model scenes to look like the pictures that I take of the actual thing!

I've been pushing hard this weekend on getting the track plan done. In a post a while back I talked about freelancing industries into the town of Bloomer. About half way through the track plan I realized I was just adding the industries from the town of Chetek. (North of Bloomer) So I figured that I might as well just follow the prototype and model both towns. The layout is still going to be focused as an "Industrial Switching Layout". Building the layout in stages will ease construction and allow me to focus on one area at a time. The first stage is going to be the town of Bloomer, which is what I am working on designing right now. 4 industries, a storage (run a round) siding and all facing point spurs will give the operator a brain teaser with limited room and a bunch of freight cars! After many failed attempts at designing a track plan of Bloomer, I believe I now have what Im looking for. Im gonna continue to push hard today and get that track plan done and have it on here for all to see.

Jordan
---
Reply author: Jordan114
Replied on: 04/24/2012 8:57:54 PM
Message:
ALL RIGHT EVERYONE!!! I have finally got a track plan for you all to check out. Feed back is well wanted and any advice about what I could/should do are also welcome.




This track plan is just of the town of Bloomer as it is today. Only railroad related structures are on the plan (for now). Structures/Industries include: Agri Tech, Waste Recyclers, PMI Steel and Bloomer Plastics. Bloomer will receive 10-15 freight cars during an op session and will provide a lot op switching fun. Like I said in my last post all 4 industries are on facing point spurs and will require many moves between the siding and the industries.

Let me know what you think!

Jordan
---
Reply author: BOK
Replied on: 04/25/2012 09:28:49 AM
Message:
Good Morning Jordan:

Nice layout plan which faithfully reproduces Bloomer with one small exception: the Bloomer Plastics spur. As I recall that spur was a trailing point spur going North instead of a facing one as shown.

On the UP interchange track to the right is there a run around track so you can originate and terminate a WN train offsite or just a single track with a re-railer?

It looks like a great start to an interesting layout. Please keep us posted on your progress.

Barry
---
Reply author: IAISfan
Replied on: 04/25/2012 09:41:38 AM
Message:
Nice plan Jordan. It reminds me a bit of my friend James McNab's IAIS Grimes Line layout, http://www.iaisrailfans.org/gallery/MJMGrimesLine , and I know James gets a lot of enjoyment from his.

Regarding the reverse curve at the top of the plan, is that leading to a helix and future second deck?

---
Reply author: Jordan114
Replied on: 04/25/2012 11:13:29 AM
Message:
Thanks for the kind words Joe and Barry!

Barry, I looked on google maps at Bloomer and the Bloomer Plastics spur curves north off the main. Making it a facing point spur. I wonder if they changed it since you worked on the WN??

Regarding the staging, where the staging track is located there isn't a whole lot of room because of the stairs. I think it's 2 1/2 feet from the bottom step to the wall. I could make it like a cassette and just remove the staging after each session to free up some room. I will probably put in a passing track so I dont have to handle my locomotives a whole lot.

Joe, I've seen his layout on that IAIS website. I really liked how compact his layout is, but all the operating potential.

And yes Joe the turn back curve will go to a helix and a future bottom deck. The bottom deck will host either New Auburn (2 Sand Companies) or Chetek (1 Lumber, 1 Fertz and 1 Scrap Paper Company). I'm building in stages to keep everything simple and focused. Once Bloomer is completed then I will move to the second deck.

Again thanks for the kind words!

Jordan
---
Reply author: BOK
Replied on: 04/25/2012 5:55:47 PM
Message:
Hi Jordan:

No, they didn't change the spur I just forgot which way it lays. My apology. Your absolutely right about it being a facing point switch going north.

That looks like a great little layout. Keep up the good work.

Barry
---
Reply author: Coaltrain
Replied on: 04/26/2012 07:29:36 AM
Message:
I think it looks good. I like how you were able to get the long siding in. I know that a lot of people don't worry about tracks being really close to the front edge of the layout but from my experience I would try to have 5-6 inches between the tracks and the front of the layout. I noticed that in front of PMI steel and there the helix is you have the tracks really close to the edge. I like to have more space for a little scenery and to provide a catch area if something tips over. However, for me the most important reason why I have more space is because I like to take photos of my layout and it is hard to keep the edge of the layout out of the photo when it is that close. having said that, I know a lot of people have the tracks close to the edge on the upper level of a double deck layout because the upper deck can be at eye level and it makes it hard to see and reach if the tracks are set back really far.
---
Reply author: Jordan114
Replied on: 04/26/2012 4:47:21 PM
Message:
Thanks Barry and Jeff for the kind words!

Jeff, I'll add 3-4 more inches to those areas. It would be nice to have some room for good photography and nice scenery! Plus since this will be the top deck it would be TRAGIC for one of my prized GP15s to tip off the tracks and plummet 5 feet to its demise...
So that'll add a nice safety net. Another note is that the turn back curve will be a densely sceniced hill with lots of trees to block the "tunnel" into the helix. Another advantage of Wisconsin being hilly and full of trees!

The siding on my track plan is about a 1/3 of what it actually is. But it's large enough to support my operations. The thing about this siding that I really like is the cool structures that run along it. The old dairy will be a fun scratch build/kitbash and a nice backdrop structure. Also a small concrete outfit will add a nice visual piece to the layout. There are also two older feed mills on the east (right side of my main line) side of the main. I want to model them, but it would involve bumping my layout out about 5 inches and then having to reach over them to uncouple freight cars. We'll see. Maybe a moch up will help that decision.

Jordan
---
Reply author: Jordan114
Replied on: 05/08/2012 09:01:16 AM
Message:
Hello all,

Unfortunately before I can build he layout I need to get the basement up to par. At least the room the layout is going to be in. This will include replacing old bulky duct work on the ceiling as well as sheeting the ceiling. Just these two things are going to make the room more inviting.

In the mean time I may start building an industry. I was thinking perhaps Waste Recyclers for my first project because it's going to be a pretty simple (I hope anyway) project.

As a little side question. What would guys suggest for an air brush?? I do not have one and not very familiar with the brands.

Thanks!!
Jordan
---
Reply author: Coaltrain
Replied on: 05/09/2012 10:50:05 AM
Message:
my air brush is a Badger 200, I have had it since the early 80s', it works fine. I don't think that dual action air brushes are needed in model railroading so I would not pay the extra money for it. I would make sure you buy an internal mix gun, I think they paint better but are a little harder to clean up then an external mix gun. My friend bought a gun from Harbor Freight and it looked like an identical copy of a Badger gun.

I looked into the Aztec guns once and almost bought one. I thought that the Aztec guns may work better with acrylic paint because the acrylic paint would not stick as well to the plastic gun internals. The Badger is metal, so it is stronger and won't wear out as fast, but don't even think of letting paint sit in the gun for more than a few seconds, Acrylic dries fast you will have a plugged gun right in the middle of your spray project.

I have gotten used to the Badger and if I have to stop spraying during a project I pull off the color cup and stick the gun in a cup filled with water and blow the paint out, then close the needle all the way. Closing the needle will push any paint out of the tip while it sits. when your ready to start spraying just stick the color cup back on and spray on a scrap of paper until the color comes back and all the water is gone. Don't ever use anything other than water for that, if you try tinner it will cause the paint to gun up in the air brush. whenever you stop spraying with acrylic paint close the needle off unless you are pausing for just a second to change to a new part.
---
Reply author: PEIR
Replied on: 02/23/2014 12:29:24 PM
Message:
Have you made any progress on your layout or the room Jordan?
---
Reply author: IronHorse
Replied on: 07/11/2014 01:11:36 AM
Message:
Jordan-

I just started examining your plans for your WN layout, and all of the effort and time you have put in to creating your own slice of WI. It's nice to see another modeler living in and modeling the Badger State! I like what I'm seeing and I look forward to more.

Forward,

-Chris Thulien
---
Railroad Line Forums : http://www.railroad-line.com/forum/
© 2000-17 Railroad Line Co.